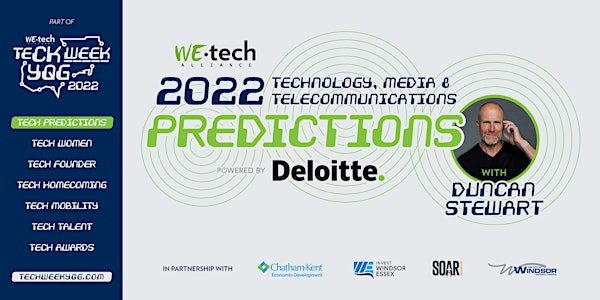 Deloitte Global TMT Predictions 2022 with Duncan Stewart
What's next for technology, media, and telecommunications? TMT Predictions gives you a glimpse of what 2022 could have in store.
About this event
With 19 topics this year, Deloitte's TMT Predictions has something for everyone. Join co-author Duncan Stewart as he takes you on a whirlwind tour of the most important topics, customized for the Windsor-Essex and Chatham-Kent markets. It will be an interactive session, with questions as we go, and extra time for wide-ranging Q&A at the end.
Who should attend: Whether you are self-employed or working for an organization, your work consistently interacts with technology, media and telecommunications. The technology environment is crucial to your business.
Event Hashtag: #TeCKweekYQG #TeCKpredictionsYQG
Event Partners: Deloitte, Invest WindsorEssex, City of Windsor, Chatham-Kent Economic Development & SOAR Innovation.
Tentative Agenda:
8:30am – Opening Remarks
8:35am – Remarks and Keynote Introduction
8:40am – Presentation with Guest Speaker Duncan Stewart
9:30am – Q&A and Closing Remarks
Zoom link will be sent to participants 24 hours before the event begins.
Duncan Stewart
Director of Research, Deloitte Canada |Technology, Media and Entertainment, & Telecommunications
dunstewart@deloitte.ca | @dunstewart
Duncan is the Director of TMT Research for Deloitte Canada, a member of Deloitte's US Center for Technology, Media & Telecommunications (TMT Center) and is a globally recognized expert on predicting the future of consumer and enterprise technology, media and entertainment & telecommunications. He has been co-author of Deloitte Global's annual Predictions report on trends in TMT since 2008. He meets with hundreds of the top tech, media, and telecom companies globally each year, and incorporates their insights into his work.
He presents regularly to companies and at conferences, has a high-profile media presence, and is frequently interviewed on the future of everything.
Duncan has 32 years of experience in the TMT industry. As a portfolio manager, he made investments in the tech and telecom sector, and won the Canadian Technology Fund Manager of the Year award in its inaugural year. In his time as an investor he deployed a cumulative $2 billion of capital into global TMT markets, in public and private companies.
He is a CFA® charterholder and holds a B.A. in Political Science from the University of British Columbia.