Learn in the field with Dennis Prescott as he walks you through his process of preparing, styling, and capturing food from start to finish.
About this event
WHEN: Monday, December 13, 2021 | 5pm PST / 8pm EST
WHERE: ONLINE - Zoom Webinar
COST: FREE - Register to secure your spot.
Join us on Monday, December 13th for an online Socality x Canon Creator Lab workshop with instruction from chef and food photographer Dennis Prescott (@dennistheprescott) as he teaches an "in the field" workshop on "Storytelling with Food Photography."

This workshop continues a series of "in the field" online workshops combining a fully produced workshop captured on location. Dennis teaches you how to prepare, style, and photograph dishes that tell compelling and accessible stories of moments spent at the communal table. This online workshop also offers you direct access to Dennis after the workshop portion via a live Q&A session. You'll get a chance to watch Dennis walk through his workflow, learn how he creates creative and compelling images of food from start to finish, pick up lessons on telling stories through food photography, and much more as he takes you with him on location to demonstrate the concepts being taught using practical, hands-on examples. You'll also get a chance to level up your cooking skills heading into the holiday season.
This workshop will cover a variety of concepts including:
Dennis' personal approach to cooking and food preparation
Styling tips and tricks for creating visually captivating dishes
Using storytelling techniques and tools to tell unique and compelling stories around the table
Using light, space, and environment to enhance your food stories
Q&A session
This workshop will include a combination of an in the field workshop from Dennis Prescott and a live Q&A portion where you'll have the chance to have Dennis answer your questions.

ABOUT DENNIS:
Dennis Prescott is a celebrated Canadian chef and cookbook author.
A once struggling musician living in Nashville, TN, Prescott learned how to cook by working his way through several Jamie Oliver cookbooks. His studies quickly turned to a food obsession, where he started his booming Instagram account full of photos of mouth-watering food and eclectic recipes. Dennis began working along side chefs in various restaurants, leading him to travel the world as a chef. Having spent time experimenting with countless cooking techniques and recipes, and teaching numerous communities how to cook, his expertise have led him to this crucial role on Restaurants on the Edge. His latest cookbook, Eat Delicious, is in stores now.
To see more of Dennis' work you can find him on Instagram, or head over to his website at https://dennistheprescott.com/.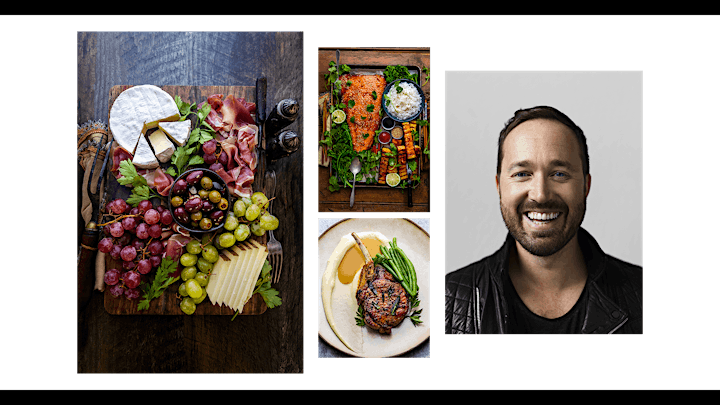 Who's this workshop for?
This workshop will be valuable for anyone looking to take their photography to another level, specifically as it relates to food and lifestyle photography. Whether you're a photographer, videographer, digital creator, model, blogger, or just getting started on your creative journey, these workshops provide an opportunity to connect with others in the community and learn something at the same time.  
—
Any further details will continue to be updated and communicated as we get closer to the workshop. RSVP to secure your spot.
Organizer of Dennis Prescott: Storytelling with Food Photography - Canon Creator Lab