Description
Dig-In, St. Albert's Horticulinary Festival, is an exciting weekend of culinary adventure and gardening that will excite you with the possibilities and benefits of eating locally grown food.
Through celebrity-hosted meals along with a series of demonstrations and hands-on workshops, participants will learn how to grow food in an urban setting and to prepare their own produce. Additionally, those who take part will discover the delicious joy of food they've grown themselves.
Please note: some of the free workshops are now SOLD OUT, except to Brunch or Dinner ticket holders. Purchasers of Brunch or Dinner Tickets will receive an access code with via email within 1 business day allowing them to access a pool of free VIP seats for these sold-out workshops.
Please note: when choosing your dinner or brunch ticket, there are multiple seating times. If joining another party that has already purchased tickets, please email info@diginstalbert.ca with your name and the name of the party you will be joining.

Spring Festival events include: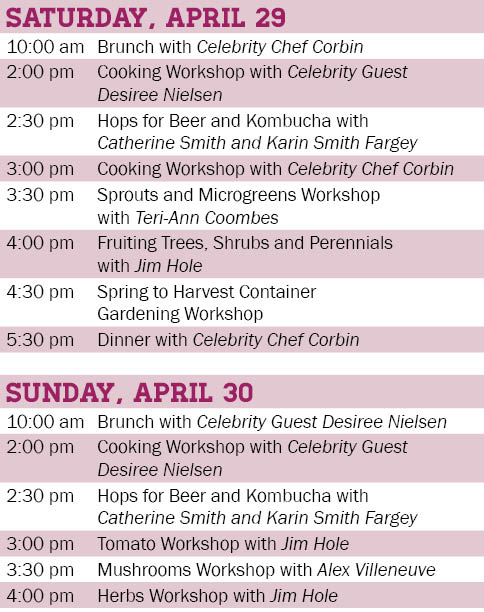 Celebrity Guests
Chef Corbin - Restaurant Makeover (HGTV) and Dinner Party Wars (Food Network)
Desiree Nielsen RD - The Urban Vegetarian (Gusto TV)