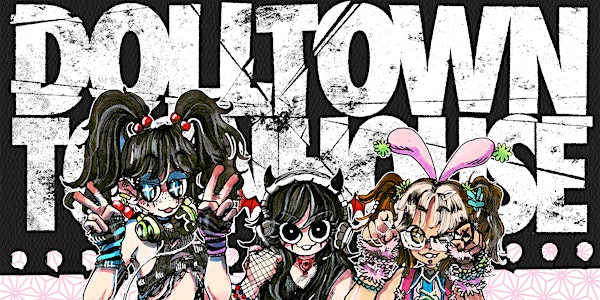 DollTown ToonHouse
༺Dollhouse༻ and ✴Toontown✴ are joining forces to throw the Kandi Rave of the century... ♥ᎴᎧᏝᏝ
Date and time
Sat, Feb 4, 2023 9:00 PM - Sun, Feb 5, 2023 2:00 AM EST
Location
The Baby G 1608 Dundas Street West Toronto, ON M6K 1T8 Canada
Refund Policy
Contact the organizer to request a refund.
Eventbrite's fee is nonrefundable.
About this event
Eons ago, on a cold December night… Toontown set off the 20XX Cultural Reset in Toronto's rave scene. The people were not ready 🚫 Chaos ensued 🧨 Servers overloaded. Networks crashed📉Track IDs would not load🎵❌
Out of the chaos emerged 🎀𝒟𝑜𝓁𝓁𝒽𝑜𝓊𝓈𝑒🎀 to join Toontown in it's mission to override the system with never before seen genre mashing Nu Cyber style. Now, Toontown and Dollhouse are joining forces to throw the Kandi Rave of the century... ♥ᎴᎧᏝᏝ𝓉𝑜𝓌𝓃 ♥t໐໐ຖ𝕙𝕠𝕦𝕤𝕖♥
¸¸♬·¯·♩¸¸♪·¯·♫¸¸ LINEUP ¸¸♫·¯·♪¸¸♩·¯·♬¸¸
- Numbers (Toontown)
- Cherry Chip (2/2 Dollhouse)
★彡 GENRES ★彡
== GABBER /// SPEED JERSEY /// HARDSTYLE /// SPEED GARAGE /// HARDCORE ==
==== JUNGLE /// LESBIAN NIGHTCORE /// DONK /// RAVE /// HI SPEED NRG ====
=== BAILE FUNK /// TWERKTRANCE /// MAKINA /// BUBBLEGUM BASS ===
◦•●◉✿GENERAL INFO✿◉●•◦
19+: IDs will be checked by security at the door
DRESS CODE PROMPT: Kandi Rave//Nu Cyber//Dress 2 Sweat... but always do what makes you feel like your best self!!
TIME: 9PM - 2AM
DATE: Saturday, FEB 4th
LOCATION: Baby G, 1608 Dundas St W, Toronto
♥*♥*♥ FAQ ♥*♥*♥
Q1: Can I leave the event and come back?
A1: Yes
Q2: Will there be coat check?
A2: There will be a coat rack near the front where our box office is but it will not be run like an official coat check
Q3: Will harm reduction supplies be available?
A3: Yes! We will have free condoms, lube, GHB kits, snorting kits, etc. available at the front.
Q4: How can I contact you to ask more questions?
A4: Please message @dollhouse4ever on IG or dollhouseplur@gmail.com. No question is too silly or too small. Please reach out to us about anything you need for the night
▀▄▀▄▀▄ ACCESS AND INCLUSIVITY ▄▀▄▀▄▀
Arriving at Baby G: Baby G is accessible VIA TTC. The stops near the venue are no more than a 350m walk.
Seating: Baby G has two main rooms. The first room will be a bit quieter and will have seats and tables for attendees to use. The second room, where the DJs will be performing will not have any seating.
Wheelchair Access: Other than a small lip at the door the venue is wheelchair accessible.
Wheelchair Access: Other than a small lip at the door the venue is wheelchair accessible.
Washrooms: Gender-neutral washrooms will be on the main floor.
FREE TICKETS: We will once again have free/PWYC options with priority to QTBIPOC. Baby G is a small space and so we can only offer a limited amount. Please message @dollhouse4ever on IG or email dollhouseplur@gmail.com for our promo code to access these!
WHO IS THIS SPACE FOR: Dollhouse started running events to make more space in the city for us and our trans friends, with a focus on our friends who experience transmisoginy. To keep us, our friends, and everyone in the space as safe as possible we will have a ZERO tollerance policy for any discrimination or harrassment.
This means any form of transphobic, homophobic, anti-black, anti-indigenous, racist, misogynistic, xenophobic, or ableist behaviour will not be tolerated.
Asking for help: If you are feeling unsafe or have seen some weird behaviour, please ask any staff member to speak to Aster and/or Christie. People in the audience will also likely be able to point you towards us.
We will offer you a quiet space to talk and listen to you without judgement. We will act in according to how you need us to respond to the situation.
.•• ✧ DISCLAIMER ✧••.
- Strobe lighting will be used
- A water-based fog machine will be used
- This event will be photographed for archival purposes