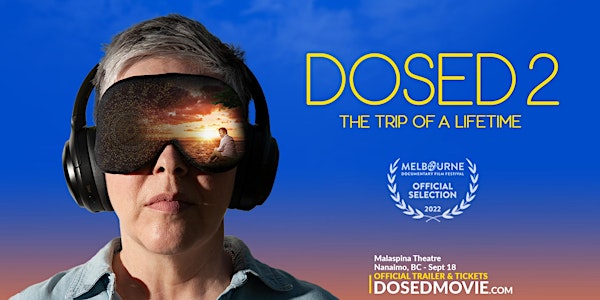 'DOSED 2: The Trip of a Lifetime' - ONE SHOW ONLY in Nanaimo with Q&A!
'DOSED 2: The Trip of a Lifetime' + Q&A
When and where
Location
Malaspina Theatre 900 Fifth St, Nanaimo Nanaimo, BC V9R5S5 Canada
About this event
Doors open at 5:45pm and the movie begins at 7pm - come early for a social gathering to meet the Numinus team and filmmakers! Numinus is a leading organization engaging in psychedelic research.
Documentary Synopsis:
Laurie, a loving mother of four, is granted the right to legally use magic mushrooms to treat her end of life anxiety. She then embarks on a remarkable journey of personal transformation and healing while exploring lesser known possible cures for cancer, like cannabis oil. (Watch the trailer below)
DOSED 2: The Trip of a Lifetime features: Dr Gabor Maté, Paul Stamets, Dennis McKenna, Dave Phillips, Sharan Sidhu, Ben Lightburn, Chino Julian, Garyth Moxey, Dr Rob Sealey, Dana Larsen, Tyler Chandler, Nicholas Meyers, and Laurie and Glenn Brooks.
Itinerary:
- Doors at 5:45pm for a social gathering and to meet the Numinus team and filmmakers
- 7pm - Film screening of DOSED 2: The Trip of a Lifetime
- 8:30pm - Q&A feat Sharan Sidhu (VP, Scientific Research, Innovation and Laboratory Operations, Numinus Bioscience); Davina Kraubner (Physician and Site Medical Director Vancouver Island, Numinus Bioscience); filmmakers of DOSED 2; Dr. Crosbie Watler, MD, FRCPC, (psychiatrist for the Roots to Thrive ketamine-assisted group psychotherapy programme); Dr. Valorie Masuda (Palliative care physician); & Shannon Dames (Chair of VIUs Psychedelic-assisted Therapy Program)
Many thanks to organizations like TheraPsil, The Medicinal Mushroom Dispensary, Filament Health and Numinus for being part of Laurie's inspiring journey.
The first DOSED film is available to rent and own now!
We are extremely excited to be back with another documentary about the healing power of psychedelic medicine. We hope you enjoy watching the film and engaging in a discussion afterwards with leaders in your local psychedelic community. Mush love 🌱🍄✨