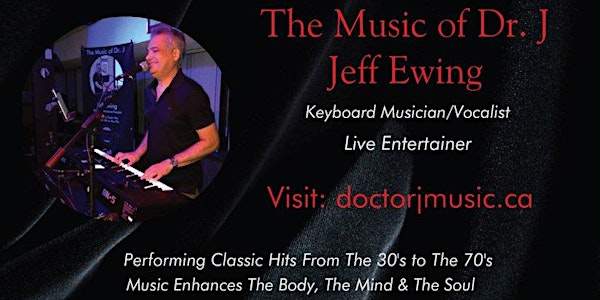 Dr. J (Jeff Ewing) Virtual Zoom Concert 11am (EDT) Fri Apr 9/2021
Dr. J (Jeff Ewing) Virtual Zoom Concert 11am (EDT) Fri Apr 9/2021. Meeting Room opens at 10:45 am for Guests to chat.
About this event
Dr. J (Jeff Ewing) is a Greater Toronto Canada Area (GTA) based Keyboard Musician & Vocalist (Live Entertainer) that specializes in enthusiastic music (Classic Hits) from The 30's to The 70's, perfect for a mature audience that wants to dance or listen to Classic Hits from the past. For more info visit: doctorjmusic.ca
Important Zoom Meeting Protocols to be aware of:
This Concert will be an "interactive" session with both Musical Performances by Dr. J (Jeff Ewing) as well as an opportunity to chat with the Performer and ask any music related questions etc.
Should you have a Song Request (that I know) please send by email "prior" to the show and be prepared to share with the group why you requested the song and perhaps what it means to you etc.
There will also be time for the audience to briefly introduce themselves to one another as well as use the Chat facility within Zoom.
Please disable Audio while others are talking and during the performance
Additionally:
As a Zoom participant Your Audio and Video will be enabled. You may however wish to "disable" the Audio or Video at your option.
You may be required to download the Zoom App if you're using a mobile device if on a Desktop the Link or URL should suffice.
Headphones and Microphone are recommended but not required.
All My Zoom Concerts are "recorded" and subject to posting on any of my Social Network Facilities; e.g. Facebook, YouTube, Main WebSite etc.
Disclaimer:
All My Livestream virtual performances are solely to provide virtual entertainment during the Covid-19 pandemic lockdown. I do not use Copyright Backing/Karaoke Tracks or MIDI files etc. All music arrangements are original and performed/recorded live. Livestream Virtual Concerts may not be re-distributed without the written consent of the Performer; who will/shall remain the owner of such recording.
Music Enhances The Body, The Mind, & The Soul.....Dr. J (Jeff Ewing)