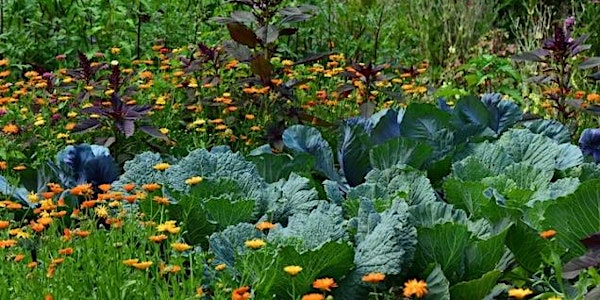 Edible Ornamentals: the marriage between use and beauty, by Debra Knapke
Learn how to creating an edible landscape that tastes and looks great.
About this event
A link for this event will be sent out by email a couple of days before the event.
Today's gardeners want gardens and landscapes that fulfill multiple functions. What better way to tap into this trend than to include plants that are pleasing not only to the eye and nose, but also to the taste buds? The concept of the edible landscape dates back to ancient times. But what is the nature of today's edible garden? Debra will offer options for adding edible trees, shrubs and herbaceous plants to your design palette.
(Handout is a three page, 11'' x 17'' chart of edible plants which includes aesthetic and functional characteristics of over 100 edible plants; emphasis are on perennials woody and herbaceous species)
Handout for this event - download now.
Presented by Debra Knapke, author of numerous gardening books and owner of The Garden Sage, a garden design and consulting business that incorporated herbs and gardens.
After two other careers, in 1992 Debra turned her avocation of plant study and gardening into her full-time career. Known as "The Garden Sage", Debra is passionate about gardening, sustainable garden design and the natural world, and enjoys sharing knowledge through her writing, public speaking, and garden consulting in the private and public sectors. She has served on various local and national committees and boards that focus on education, the environment, and sustainability. She has championed those passions during her two-year term (2014-2016) as Honorary President of the Herb Society of America and currently as the Chair of the Sustainability Committee of GardenComm. In addition, she has mentored the future of the landscape industry at Columbus State Community College for 24 years. She loves being a gardener and has packed an amazing variety of perennials, trees, shrubs, and edibles onto the 2/3-acre lot surrounding her home.
Website: www.DebraTheGardenSage.com Blog: http://heartland-gardening.com/ in partnership with Michael Leach and Teresa Woodard
Books:Perennials for Ohio by Debra Knapke and Alison BeckAnnuals for Ohio by Debra Knapke and Alison BeckGardening Month by Month in Ohio by Debra Knapke and Alison BeckBest Garden Plants for Ohio by Debra Knapke and Alison BeckHerb Gardening for the Midwest by Debra Knapke and Laura PetersHeartland Gardening: Celebrating the Seasons by Debra Knapke, Michael Leach, and Teresa Woodard