Description
The seventh edition of our the Mundo Al Reves Latin American Film Festival. We are focusing our efforts in a single day event, because it is International Human Rights Day! We will investigate both Latin American issues and those of our indigenous brothers and sisters of Canada.
The festival is organized by the Memoria Viva Society of Edmonton with the support of Cinema Politica. The selection committee of the festival chooses films in accordance with the values and principles of the Memoria Viva Society of Edmonton.
Together We're stronger, together We're one!
Support us through our GoFund Me Campaign! Click Here!
---
Otra edicion de El Mundo Al Reves Latin American Film Festival esta bastante cerca este año como todos Uds ya lo saben aunque esta vez, será una ocasión en que estaremos enfocando nuestros esfuerzos en un evento de un único dia y, ¿por qué asi? Por que éste girará en su totalidad alrededor del Dia Internacional de los Derechos Humanos asi como de nuestros hermanos y hermanas indigenas de Canadá.
¡ Juntos somos más fuertes, juntos somos Uno mismo !
Esta séptima edición de nuestro Festival de Cine tendrá también la peculiaridad de contar con la presencia de una organización dedicada a hacer posible llevar filmes por todo el mundo, dedicada a proyectar el poder de la verdad!: Cinema Politica y su capitulo Edmonton, ¿¡ qué mejor combo !?
---
PROGRAM / PROGRAMAR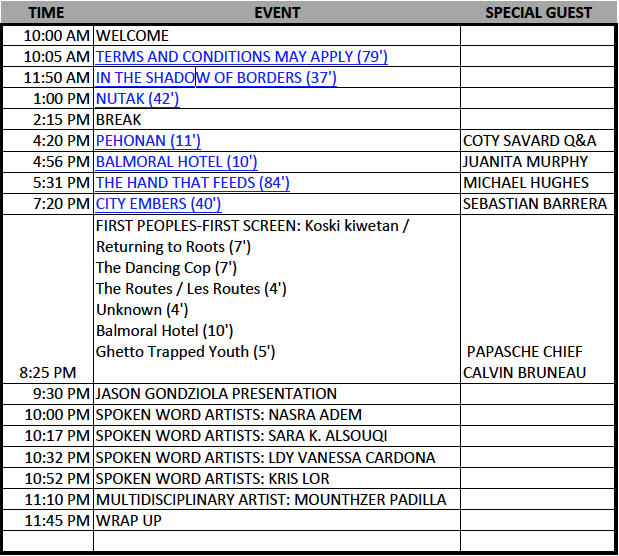 ---
For more information about the event and our other initatives please contact us / Contáctenos