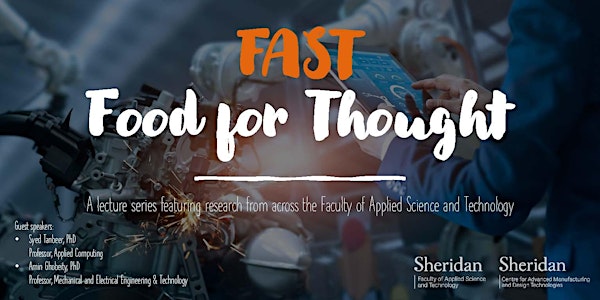 FAST Food for Thought
Join us for FAST Food for Thought on Friday March 26th 2 p.m. – 3 p.m. EST.
By Centre for Advanced Manufacturing and Design Technologies
Date and time
Fri, Mar 26, 2021 11:00 AM - 12:00 PM PDT
About this event
At the March FAST Food for Thought, you will learn about the benefits and challenges involved in applied research projects. Our guest speakers will discuss issues in our healthcare systems for patients who are living outside of primary care homes and address the demand for in-home care services. Also, the simulation and optimization of novel energy and mining systems, including experimental validation and demonstration of novel engineering concepts will be discussed. More importantly, the panel will focus on student's learning and the valuable experiences gained through their involvement in applied research projects.
Guest Speakers:
Syed Tanbeer, Professor, Applied Computing
Amin Ghobeity, Professor, Mechanical and Electrical Engineering & Technology