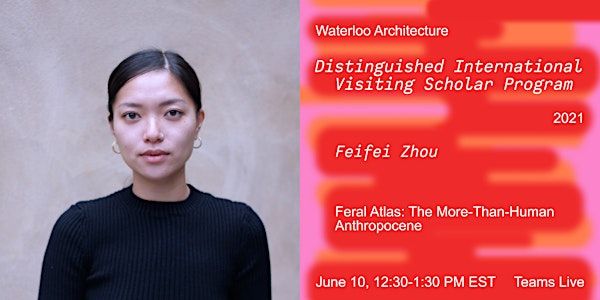 Feifei Zhou, Feral Atlas: The More-Than-Human Anthropocene
This guest lecture is presented by the University of Waterloo's School of Architecture.
About this event
As part of the Distinguished International Visiting Scholar Program, the School of Architecture is pleased to host an open lecture by Chinese-born artist and architect, Feifei Zhou. Zhou holds an MA in architecture from the Royal College of Art in London and was a guest researcher at Aarhus University Research on the Anthropocene (AURA). Her work explores spatial, cultural, and ecological impacts of the industrialized built environment. She co-edited the digital publication Feral Atlas: The More-than-Human Anthropocene with Anna Tsing, Jennifer Deger and Alder Keleman Saxena, which was published in October 2020. Zhou currently lives and works between London and China.
The event will be followed by a brief question and answer period.
Accessibility: Waterloo Architecture is committed to achieving accessibility for persons with disabilities who are attending the event. Closed Captioning will be provided during the online presentation. For accommodation questions and requests, please contact us in advance of the event.
This presentation was made possible through funding generously provided by GCI Ventures in support of international research and education initiatives.
For more information on this series and other events presented by Waterloo Architecture, please visit waconnect.ca or follow us @waterloo_architecture.