Festival du Film Libanais au Canada - State of Agitation - Montreal
October 06, 2021- Montreal Projection du film "State of Agitation" par Elie Khalife
About this event
La cinquième édition du Festival du film libanais au Canada aura lieu à Montreal du 3 octobre au 7 octobre 2021.
Date : Le mercredi 6 octobre 2021
Endroit : 3500, boul. Côte-Vertu Ouest, Montréal (Québec) H4R 2X7
21 h - Projection du film « State of Agitation » d'Elie Khalife
en arabe avec sous-titres français
Vivant à Beyrouth à côté d'une bretelle d'autoroute, un cinéaste très enthousiaste est dans un état d'hyper inspiration caractérisé par un débordement d'idées très contrastées. Par conséquence, ses personnages vont traverser des situations impérieuses et extraordinaires. Pour se vider l'esprit, il se rend au nord du pays où une projection de ses courts métrages est prévue dans une école publique rurale. En cours de route, il fera une série de rencontres renversantes.
Avec : Fadi Abi Samra, Michele Aoun, Stephanie Atalla.
Les billets sont disponibles sur Eventbrite.ca, par téléphone au (514) 552-5153 et par courriel : info@lffcanada.com.
Pour plus d'information, merci de visiter www.lffcanada.com ou contactez-nous par courriel : info@lffcanada.com.
---------------------------------------------------------------------------------------------
The fifth edition of the Lebanese Film Festival in Canada will take place in Montreal from October 03 till Oct 07, 2021
Date: Wednesday, October 6, 2021
Location: 3500 Blvd. Cote-Vertu Ouest, Montreal, Quebec H4R 2X7
9:00 pm - Screening of the movie 'State of Agitation' by Elie Khalife
in Arabic with French subtitles
Living in Beirut adjacent to a highway ramp, a highly enthusiastic filmmaker is in a state of hyper inspiration characterized by an overflow of contrasting ideas. As a conséquent, his characters will go through compelling and extraordinary circumstances. To clear his mind, he heads north where a screening of his short films is scheduled in a rural public school. A series of encounters along the way will turn his world upside down.
Starring: Fadi Abi Samra, Michele Aoun, Stephanie Atalla.
Tickets are available on Eventbrite.ca, by phone at (514) 552-5153, and by email at info@lffcanada.com.
For more information, please visit www.lffcanada.com or contact us at info@lffcanada.com.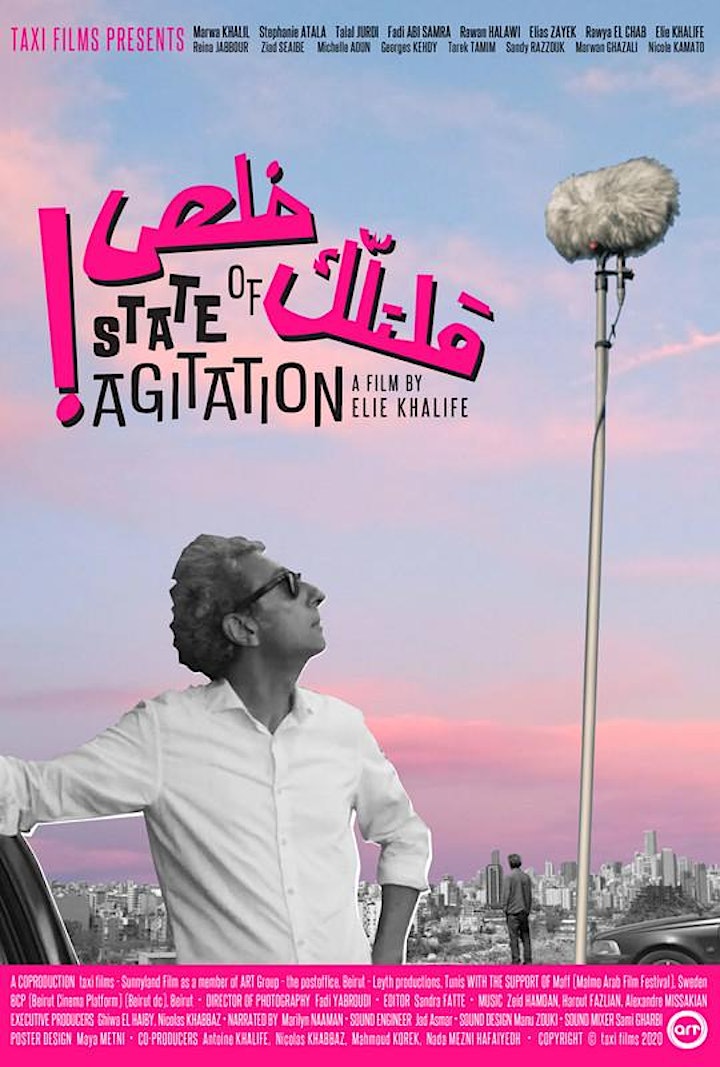 Organizer of Festival du Film Libanais au Canada - State of Agitation - Montreal