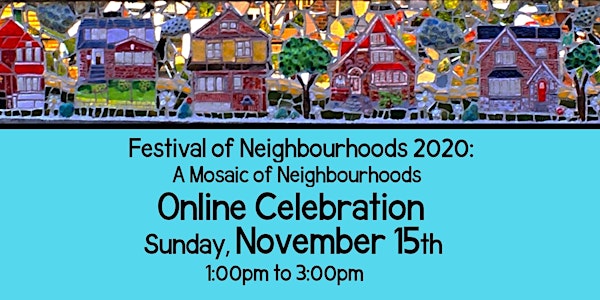 Festival of Neighbourhoods 2020: A Mosaic of Neighbourhoods
Festival of Neighbourhoods 2020: A Mosaic of Neighbourhoods Online Celebration, Sunday, November 15th from 1:00pm to 3:00pm on Zoom
About this event
Festival of Neighbourhoods Kitchener invites YOU to participate in an interactive online celebration recognizing all the amazing ways you and your neighbours created community connections this year. Our theme is A Mosaic of Neighbourhoods, and we'll be highlighting the neighbourhoods and people that make Kitchener the strong and diverse community we cherish.
Zoom along with your neighbours and City of Kitchener representatives to share your ideas for the future of your neighbourhoods, take some video tours around the city and participate in a fun creative activity.
By joining the party, you'll have the opportunity to represent your neighbourhood and win one of five $100.00 'Door Prize' Gift Cards from local businesses towards your neighbourhood projects.
And you will receive a confirmation email with the Zoom meeting link to access the celebration. The deadline to confirm your attendance has been extended to Friday, November 13th at midnight. Sign up today!
https://www.facebook.com/FONKitchener
https://twitter.com/FONkitchener
www.festivalofneighbourhoods.ca