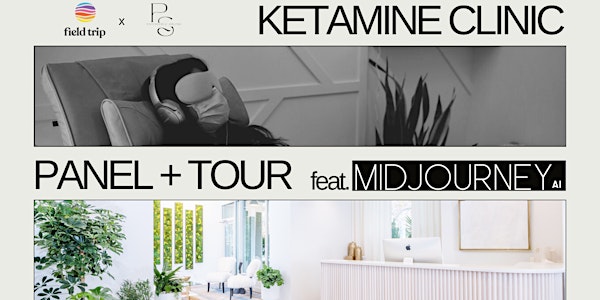 Field Trip Health Presentation, Panel + Tour feat. Midjourney AI
Got plans for the full moon?
When and where
Location
Field Trip Health Vancouver 1450 Creekside Drive #500 Vancouver, BC V6J 5B3 Canada
Refund Policy
Contact the organizer to request a refund.
About this event
Psychedelic Salons presents... Field Trip Health, a landmark clinic offering safe, assisted ketamine therapy in the Vancouver area.
The Field Trip itinerary:
1. Event starts at 6pm. The earlier you come, the better your chances of ensuring parking--which is safe and free right underneath the clinic!
2. Hang your coat, keep your shoes on. Enjoy some light charcuterie and find a seat for an introduction as we settle in to a panel discussion.
3. For those who are curious about Midjourney... we will be presenting a special patient's visual story with their therapist, Kelly. Ketamine therapy, meet beautiful AI-generated dreamscape art.
4. Q&A's will hold to the end, please... ask away!
5. Tour time! Briea will be organizing mini groups for a clinic tour so you can check out the yoga studio, anti-gravity chair and more curated to support the wellness needs of Vancouver.
The whole event will likely be a 2-hour affair but none will be offended if you have to leave early :)
Parking is hard to find in the area so, again, come early if you're driving to ensure a spot.
In terms of tickets, entry is by donation and donations will be going to the Food Bank!
The Greater Vancouver Food Bank was set up as a temporary relief to the hunger crisis in 1983, but the need still exists today. They receive no ongoing government funding and exist solely through the generosity of the public, our industry partners, and applicable grants. Each month, they provide healthy food to around 13,000 individuals and families in need, and 118 Community Agency Partners across Vancouver, Burnaby, New Westminster and the North Shore.
For those who are lacking funds, we won't be turning anyone away.
If you do buy a ticket, this ensures you a +1 so bring a friend or family member :)