Description
Join us on Tuesday evenings in January to learn Bollywood dance. A combination of uniqueness, energy, joy, and grace is what defines modern Bollywood dance. This beginner-level class will work through technique and style while building a fun short routine! Special thanks to Shereen Ladha!
• No previous dance experience required, all levels welcome!
• Please wear comfortable clothing.
• Washrooms are available for changing.
• Please bring your own water.
Tuesdays 5:30pm-6:30pm
January 9, 16, 23, 30
We strongly encourage interested participants to join the Eventbrite waiting list if registration is full as we will release spots in the event of a cancellation.
Enter through the Yonge Street entrance (west side of building, south of Front Street). Doors open 15 minutes before class starts. Please arrive early to sign-in. Late comers will not be allowed entrance. Our wait list/drop-in information and Eventbrite registration policy can be found further down the page.

Community Class Liability Waiver
As a participant, you only need to complete and return this form once. After that, you are eligible to participate in all community classes. Copies of this form are available upon arrival at each class. Alternatively, you may print and complete this form in advance and bring it with you to your first class. Community Class Rules & Regulations

ABOUT THE INSTRUCTOR - SHEREEN LADHA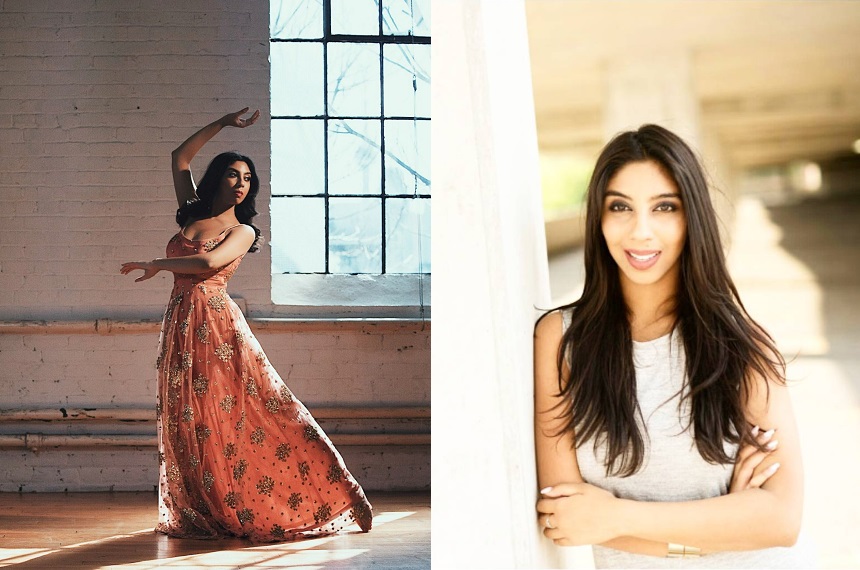 Shereen Ladha is a professional dancer, choreographer, instructor, and social influencer based in Toronto, Canada. She is the owner and director of the popular YouTube channel 'dancewithSL' that features dance covers to latest Bollywood hits and tutorial videos, and was selected as YouTube's Next 15 Canadian Stars on the rise. DancewithSL is also the creative force behind the YouTube viral sensation 'Maafi' - the Bollywood cover of Justin Bieber's 'Sorry,' and the hit stage show 'Roots: A Journey Through India' which is currently on tour.

Shereen started her dance career training in various disciplines such as Bollywood, Classical Indian (Bharatanatyam, Kathak), Hip Hop, Contemporary, and Jazz. She was a finalist on the television show 'Canada's Got Talent,' has been featured in Netflix original series 'Hemlock Grove', Hollywood movies such as 'The Love Guru' with Mike Meyers and Jessica Alba, Bollywood movies such as 'Thank You' with Akshay Kumar, and Indo-Canadian films like 'Breakaway' and 'Dr. Cabbie'. She has also danced and toured with Bollywood personalities such as Akshay Kumar, Arjun Rampal, Ranveer Singh, Bobby Deol, Lara Dutta, Mika Singh, Preity Zinta, Sonam Kapoor and many more.
Shereen has performed and choreographed for several high profile projects such as the AR Rahman Tribute Show, Jubilee Games Opening & Closing Ceremonies in Dubai, the Pan Am Games Opening Ceremonies with Cirque du Soleil, Much Music's 'So You Think You Can Dance Canada' promotions, several Toronto Raptors half-time shows, WE Day celebrations at the Air Canada Centre and the WE Day music video, Holt Renfrew's 'Uncrate India', the International Indian Film Association's (IIFA) 'IIFA Rocks', and many more.
Waitlist: If the Eventbrite Registration is full, we encourage you to join the waitlist! We will contact the waitlist with a class reminder and any updates regarding the number of available drop-in spots. If you are not contacted by Eventbrite to join the class, you are welcome to attend as a drop-in participant (first come, first served).
Drop-ins: Regardless of being on the waitlist, anyone is welcome to arrive as a drop-in participant. We will reserve 20 spots per class for drop-ins and will allow additional drop-ins up to the capacity of the class in case there are cancellations or no-shows.
Eventbrite Registration Policy
Cancellation Deadline - 24 hours prior to the class. If you discover you are no longer able to attend, we kindly ask that you cancel your order or email jennifer@sonycentre.ca to notify us a minimum of 24 hours prior to the class.
After three "no-show" instances or three cancellations received with less than 24 hours' notice, Sony Centre reserves the right to cancel any future Eventbrite orders you may have for Sony Centre Community Classes. If your Eventbrite Registration is cancelled, please note you are still welcome to attend as a drop-in participant if space is available!
For more information on free classes at Sony Centre please visit our website.