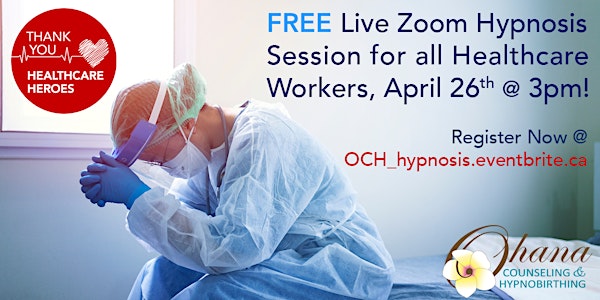 Free Live Zoom Hypnosis Session for Health Care Workers: De-stress & Learn...
Description
Our session will start at 3 p.m today. E-mails have been sent to those who registerd, with the ZOOM ID link and password. Please e-mail me at mwong@ohanatherapy.com or text me at 403-978-2645 if you did not receive the e-mail, thank you!
____
Health Care workers are the unsung heros, facing so much more then we'll ever know. As a counsellor and hypnotherapist, I would like to do my part to support them, and am offering a free hypnosis session next Sunday, April 26th. This session will help relieve stress, offer a opporutnity to feel more grounded and calm and will help participants learn tools to help with current and future stressors.
Registration closes at 11 p.m. Saturday April 25th!