Description
From Maria Tănase to Édith Piaf through little Paris
Passion will fill this evening's air: genuine Paris' charming chansonettes, alluring songs of old Bucharest.

Édith Piaf, "the Sparrow", a legend, an unforgettable voice. Revered as a French national treasure, Édith Piaf's songs reflect her tumultuous life, the life of a fighter, a passionate life.

Maria Tănase, "the Magic Bird" a remarkable, striking voice, regarded as a major cultural icon of the 20th century. She was an inspiration to great artists, a true Romanian national diva. With a large repertoire, from traditional songs to operetta, Maria never seizes to amaze.
Maria Tănase has a similar importance in Romania to that of Édith Piaf in France or Amália Rodrigues in Portugal.
In 1939, after meeting Maria for the first time, Constantin Brâncuși told her: "When I hear you singing, Maria, I would be able to carve for each song of ours a Bird in Space!"

Édith Piaf. Maria Tănase. Their songs, so loved, are sang and hummed, always bringing a little smile, a secret tear, are yet so difficult to be performed on stage, as they require that certain voice, but more than that, a love for life, a rebel spirit, an empathy for the human condition.
Jezebel, aka Izabela Barbu, a truly wonderful singer, is bringing us the amazing songs of these two legendary artists in a truly unique manner.

Highlights from the program:
La Vie en rose
Sous le ciel de Paris
Padam... padam...
Non, je ne regrette rien
Vrei să ne'ntâlnim sâmbătă seara
Fetițe dulci ca-n București
Tu nu știi să iubești
Bun îi vinu' ghiurghiuliu
Până când nu te iubeam
Ciuleandra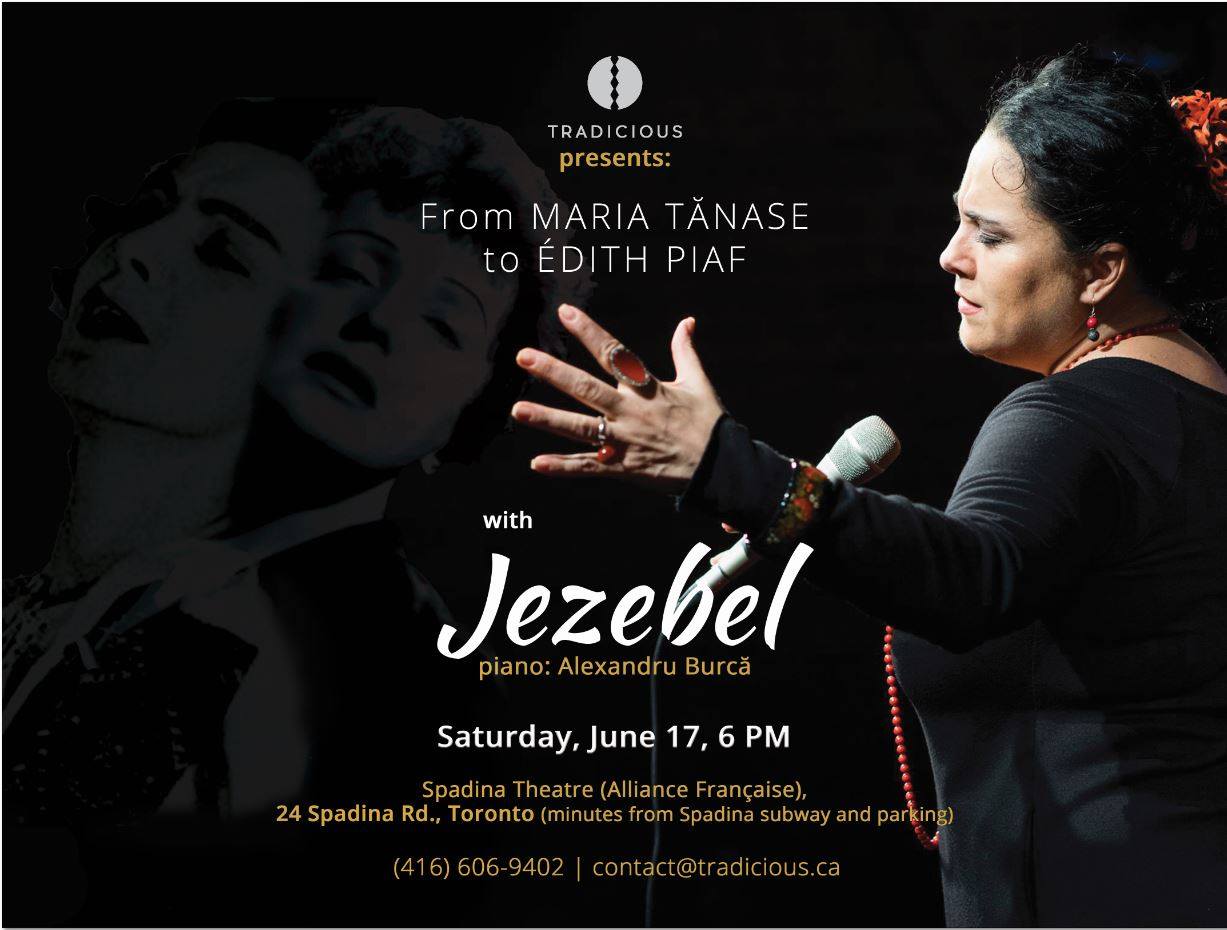 Alexandru Burcă - pianist at the "Ion Dacian" Operetta and Musical Theater in Bucharest will accompany Jezebel in her recital.