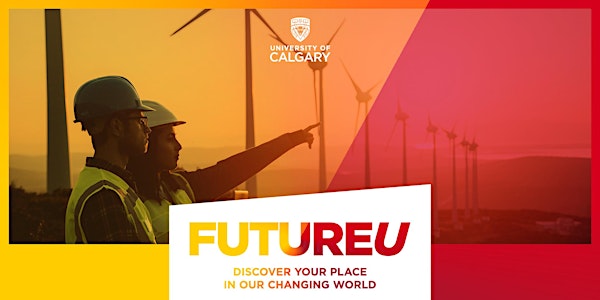 FutureU Climate Talks: Cleaner Energy & Healthier Environments
FutureU Climate Talks: Cleaner Energy & Healthier Environments
When and where
Location
University of Calgary Taylor Institute for Teaching and Learning Forum 434 Collegiate Boulevard NW Calgary, AB T2N 1N4 Canada
About this event
How do we protect and strengthen living systems that promote health? What is needed to enable a sustainable energy future?
UCalgary students are invited to join us on Tuesday, February 11 to hear from leading innovators working on energy sustainability and environmental stewardship, who will lead exploratory conversations with students about what it means to work on climate action, and what it takes to make a positive impact.
As a participant you will have the opportunity to learn from some of Calgary's leading researchers, inventors, business leaders, and change-makers. A comprehensive list will be available soon.
Together, we will discover new ways of understanding the challenges we face and how we might overcome them. This event will provide:
A deeper understanding of the challenges we face and the opportunities for solutions,
Connections to mentors and others students who are working to make an impact,
Insights into how to develop a career working on climate change,
Clear next steps should you wish to learn more.
Agenda
5:30-6:00 p.m.: Registration and light refreshments
6:00-8:00 p.m.: Workshop
Speakers Include:
Gursh Bal, Virtuoso Energy
Adam Martinson, HubH2O
David Milia, Canadian Energy and Climate Nexus
Steve Larter, University of Calgary
Evelyn Tanaka, Rural Routes to Climate Solutions
Peter Zhou, Carbon Upcycling Solutions
Angela Kouris, Synergia Biotech
David Kelly, Skyfire Solar
Rudiger Tscherning University of Calgary
Venkataraman Thangadurai, University of Calgary
Pat Letizia, Alberta Ecotrust Foundation
Viola Birss, University of Calgary
About FutureU
FutureU is a Innovation@UCalgary initiative that invites students to discover the world of innovation through hands-on learning and community-based activities. Students are provided with opportunities to explore emerging trends and ideas, meet engaging leaders from on and off campus, develop future skills for the knowledge economy, and think about their place in the world beyond the classroom. Our goal is to help students to build a sustainable life working on challenges they care about.