Description
An inspirational evening of music featuring
world-renowned pianist Marvin Goldstein
and singer/songwriter Vanessa Joy.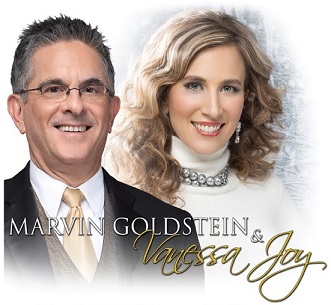 Marvin Goldstein is one of the world's most traveled pianists and entertainers. Beginning his musical training as a 9-year-old child, he was awarded a music scholarship to Tel Aviv University School of Music in Israel nine years later He continued his studies at the famed "Mozarteum" of Salzburg, Austria and earned bachelor's and master's degrees from Florida State University in French horn performance. He performed in the Tabernacle at Temple Square in Salt Lake City, Utah, on New Year's Eve, 1999. Additional honors include being listed in Who's Who in Music in Europe and being named a National Keyboard Artist with the Kawai America Corporation. A workhorse in the studio, he has over 50 professional recordings to his name. To say Goldstein is one of the enduring icons of traditional LDS music is an understatement.
Vanessa Joy is an international singer and has the distinct honor of singing for the USO at the Wounded Warriors Center in Frankfurt, Germany. She also sang for the US Ambassador in Cairo, Egypt. She was the guest artist with the "Ensemble Vocale and Orchestra" in Nesselwang, Germany in St. Andres Catholic Cathedral and was the featured soloist with the "Concierto de Navidad" in Santiago and Concepcion, Chile. Other performances include Italy, Israel, Jordan, Greece, Turkey, Central America and Canada. She has won several awards and competitions including the National Federation of Music Festival. Vanessa was only 13 when she starred in her first Gilbert and Sullivan Operetta. Vanessa went on to receive a scholarship and graduated with a degree in Music from Brigham Young University. She is in her sixth year as a guest faculty presenter at BYU Education Week. Vanessa has shared the stage with many accomplished singers such as: Grammy Award winner Billy Dean, NBA star Thurl Baily, and accomplished tenor George Dyer. Vanessa Joy has 3 solo albums to her credit "Sweet By and By", "The Voice", and "Joy To The World".