About this Event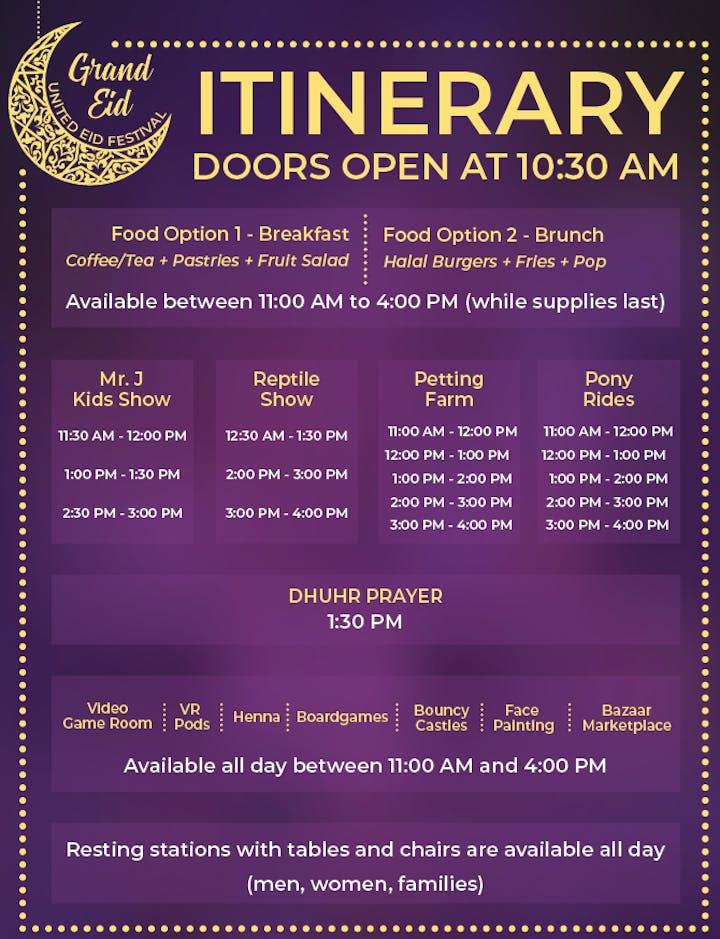 With the grace of Allah we have organized a Grand Eid to celebrate the end of the holy month of Ramadan. This will be the first annual United Eid festival that will bring together Muslims across the Halifax Regional Municipality (HRM) at a central location, Exhibition Park.
This festival will bring families together to celebrate Eid Al-Fitr. It will also provide a wide range of activities for children to enjoy on this holy occasion, and make it a memorable and fun-filled Eid!
Some of the many fun activities children can choose from include getting their face painting, receiving customized balloons, pony rides, petting farm, jumping and playing on the six mega bouncy castles, and watching a magic show with pigeons and other animals, to name a few. If they can't decide on what to choose from they can join in on all the activities during the event, which runs from 11 AM to 4 PM on June 5th, 2019.
To accommodate the adults while the children play, there will be separate sections for women and men only to sit and relax and an area for families. Adults and families will have an opportunity to browse the bazaar and marketplace where a wide variety of products will be sold by participating vendors.
To gain entry to the festival, two types of tickets will be sold, one that gives access to all activities available that will be sold for $10 and another that will give access to the activities and brunch available at the festival for $20.
Jazakhallah khairan for your time and support.