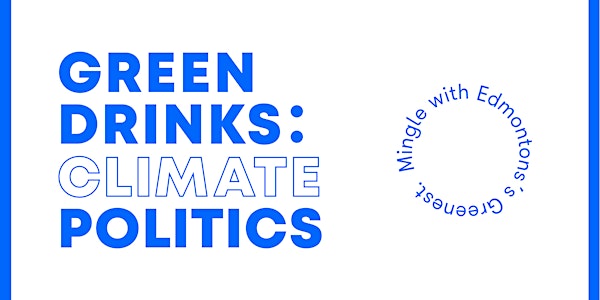 Green Drinks: Climate Politics
The second event in Green Drinks: Climate Action series! This time it's all about climate politics and policy.
When and where
Location
Yellowhead Brewery 10229 105 St NW Edmonton, AB T5J Canada
About this event
This Green Drinks will start with a panel, moderated by Dave Cournoyer, the force behind the Daveberta politics podcast and blog. The rest of the evening will be our usual mingling and informal discussion.
Themes for discussion will include:
How do you talk to people who oppose rapid climate action about why it needs to happen (e.g. bringing it up with your conservative uncle over pumpkin pie this Thanksgiving)?
What policies actually constitute meaningful climate action? (e.g. what is the Green New Deal?).
What is the interplay between municipal, provincial and federal levels of government when it comes to climate action?
Panelists:
- Batul Gulamhusein, Climate Justice Edmonton
- Crystal Lameman, Member of Beaver Lake Cree Nation
- Raj Rathnavalu, Newo Global Energy
- Derek Leahy, Rural Routes to Climate Solutions
- Janis Irwin, Member of Legislative Assembly
- Moderator: Dave Cournoyer, daveberta.ca - Alberta Politics
ABOUT THIS GREEN DRINKS SEASON
For the first time ever, Green Drinks has a season-long theme: Climate Emergency. It is not an exaggeration to say that we are now in the pivotal decade that will determine whether Earth's climate will allow humans to thrive for generations, as we would expect. A report published last year by the Intergovernmental Panel on Climate Change (IPCC) warned that we only have until 2030 to reduce global carbon emissions by 50% in order to keep global warming to a "maximum of 1.5 C, beyond which even half a degree will significantly worsen the risks of drought, floods, extreme heat and poverty for hundreds of millions of people."
In this context, The Local Good is dedicating this Green Drinks season to exploring the many different aspects of the crisis and just as many ways we can do about it. Events will touch on everything from politics and policy, to the role cities can play, to economic and energy transition, to dealing with climate despair. Whatever the topic or format, this season's Green Drinks events will help you connect with other people who care deeply about climate action and want to collaborate, share ideas, and make a real difference.
TICKET INFORMATION
This season, we have introduced a Pay What You Can Option. We have set our prices at $15 per ticket to cover our costs, but we welcome you to select the Pay What You Can option to make it affordable for you. If you would like to give us a little extra (which will be used to cover costs including: materials, team and speaker honorariums) we'd be extremely thankful.