Hacking Health Hamilton Hackathon
When and where
Location
McMaster Innovation Park 175 Longwood Road South #105 Hamilton, ON L8P 0A1 Canada
Description

Hacking Health Hamilton Hackathon
McMaster Innovation Park, February 26-28, 2016


---


Pitch ideas, form teams, get advice from experts, and build a health app in one weekend. Present your finished product in front of a panel of judges for a chance of winning some fantastic prizes!
Healthcare faces many critical problems. Hacking Health is designed to improve healthcare by inviting technology creators and healthcare professionals to collaborate on realistic, human-centric solutions to front-line problems. Our weekend hackathons are fun, intense, hands-on events where small teams tackle tough problems in a supportive community of peers and mentors.
REGISTER TODAY and join us February 26-28, 2016, for our Hacking Health Hamilton Hackathon.
Be part of a global movement bringing innovation to healthcare...right here in Hamilton!


---


Win prizes worth more than $40,000.00
The Forge incubator hosting for up to 3 winning teams (available only by invitation)
Mohawk MEDIC program: Technical and business advisory services from (worth $2,500.00)
Public Health Agency of Canada: workshops, MaRS market intelligence, and mentoring sessions (worth $15,000.00)
The Apps4Health conference: winners will be featured in a special panel session, and 15 free tickets (worth $1,775.00)
Cossette Health: incubation, business and marketing/communications mentoring and support (worth up to $20,000.00)


---


Outstanding judging panel
Leo Godreault is co-founder of CareKit Health, a startup recently acquired by Moseda Technology for $2 million in shares. CareKit is homegrown with its offices in The Forge incubator. Leo is an award-winning Registered Nurse and has worked at St Joseph's Healthcare Hamilton with a degree from McMaster University.

Tammy Hwang is involved with almost every entrepreneurship program in Hamilton. She is Cofounder and President of CoMotion on King, Hamilton's coolest co-working space; a business development officer with Global Hamilton, Cofounder of Strive consulting, and in the past she was a senior manager at Innovation Factory, involved with The Forge, organizer of multiple Startup Weekends. If you're starting up in Hamilton, you either know or ought to know Tammy.
Meredith Lou-Hing is faculty at Mohawk College as an instructor in the Medical Radiation Sciences Program. She has worked as a Radiation Therapist locally at the Juravinski Cancer Centre and the Carlo Fidani Cancer Centre at Credit Valley Hospital and has also worked internationally with the oncology team at King Faisal Hospital in Riyadh, Saudi Arabia.

Amanda Wilson is an executive director for the Public Health Agency of Canada in charge of the Centre for Chronic Disease Prevention. She has worked on issues like dementia, First Nations and Inuit healthcare systems, and digital innovation.
Joe Dee is Head of Product & Technology at Cossette Health, our title sponsor. He runs Cossette Lab, a startup incubator and accelerator based in Toronto and has worked in the past at a range of marketing agencies in the healthcare space and at MaRS Discovery District advising entrepreneurs.
---


Official partner code challenges

Bacteria are evolving the capacity to resist drugs faster than we can discover new drugs. Drug resistance death rates are rapidly increasing. Andrew McArthur's lab fights resistance using Big Data and cloud computing. A lab in Hamilton can sequence the genome of a pathogen to look for drug resistance genes, but in order to track it, they need to compare its SNPs (single-nucleotide polymorphisms) with other labs in Canada and around the world. The challenge is to create a peer-to-peer system that allows different research sites to upload and share SNP data from potentially drug-resistant pathogens.
Areas: Python / Big Data / Single-Nucleotide Polymorphisms
Create a mobile app that will motivate employees to increase their use of stairs during the workday and beyond. The app will use principles of the nudge and gamification theories to enable users tomake small changes to routine behaviour as a way of increasing physical activity levels.
Areas: Mobile / Accelerometer / Fitness
Health apps are like the wild west, with digital snake oil mixed in with gold-standard health apps and it's hard to consumers to tell the difference. Population Health Research Institute knows the how to tell the difference from a research point of view, having conducted studies with more than 1,000,000 participants worldwide, more than 1,500 hospitals or clinical locations in 86 countries on every inhabited continent in the world. Now is your opportunity to build an app that will use Apple's ResearchKit to find out which apps give effective outcomes.
Areas: iOS / Apple ResearchKit / Research methodology

There are a ton of proposed projects you can join on our
SparkBoard
.
---


Our proud sponsors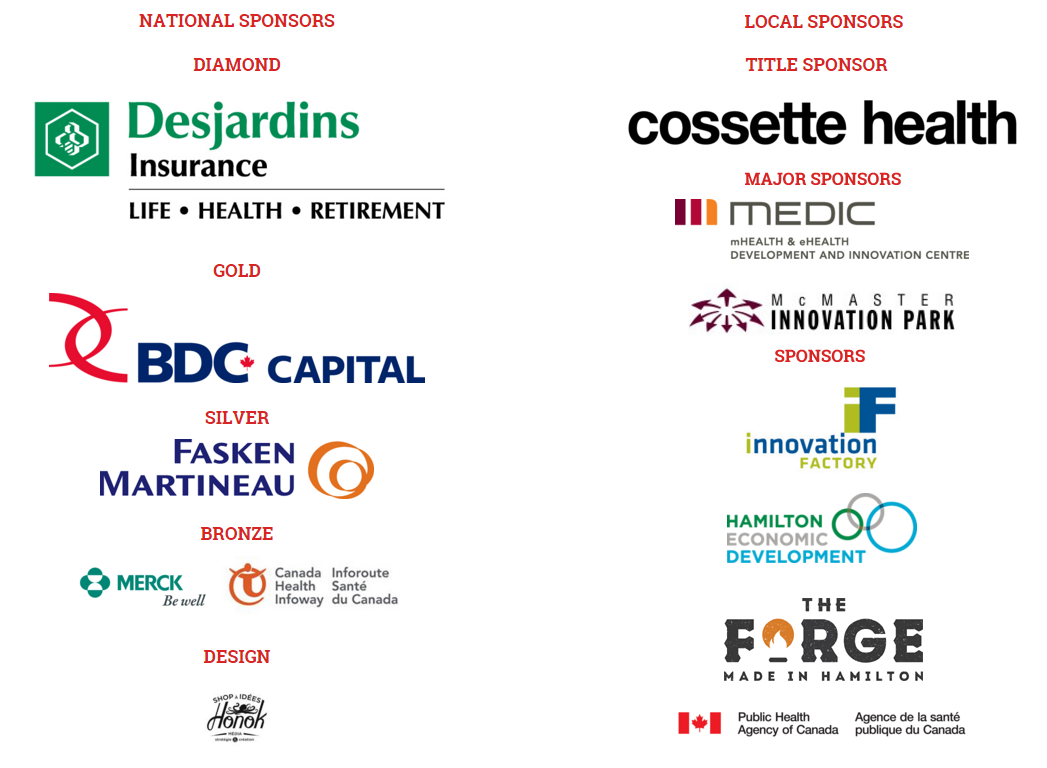 ---


How to participate
Pitch Your Ideas on Sparkboard
As soon as you get your tickets for the hackathon, go to the Hacking Health Hamilton Sparkboard, a website that we are using for the Hackathon where you can pitch your project ideas, describing them briefly and listing their requirements (designer, developer, medical expert, etc), or find a pitch/project idea that interests you or that matches your skills.
Need inspiration if you're thinking about making a pitch? Visit previous Hacking Health Hackathon success stories or check out specific Sparkboards from Hacking Health Montreal's 2014 Hackathon and 2015 Hackathon.
Weekend at a Glance
Pitch ideas and form teams on Friday night, get expert advice throughout the weekend, fuel up on the breakfast, lunch and dinner we will provide (see Event Schedule below), and present your finished product to our judges for a chance at winning several fantastic prizes!
Questions or Comments?
For more information, visit our website at http://hackinghealth.ca/city/hamilton-canada.
Email: hamilton@hackinghealth.ca
Twitter: @HHHamOnt
Facebook: facebook.com/HackingHealthHamilton


---


Event Schedule
Day 1 – Friday

5:00 pm: Registration & Pitch Clinic
6:00 pm: Networking Reception, light food & refreshments provided
7:00 pm: Program Begins
7:30 pm: Pitches
8:30 pm: Team Formation
10:30 pm: Venue Closes
Day 2 – Saturday
8:00 am - 9:00am: Breakfast
9:00 am: Design Workshop with Andrew Sartori from Cossette Health: Business Model Canvas and Visual Prototyping Tools. Andrew will walk through tools such as InVision for building visual prototypes. These tools can be mastered even by non-technical attendees.
9:30 am: Brainsprouting with Brandon Love: how to innovate creatively and fearlessly. Brandon will celebrate creativity and engage concept from his book Brainsprouting.
9:30 am: HACK!
12:00 pm - 1:00 pm: Lunch
1:00 pm: HACK!
1:00 pm - 4:00 pm: Mentoring Session
5:30 pm - 7:00 pm: Dinner
7:00 pm: HACK!
10:30 pm: Venue Closes
Day 3 – Sunday
8:00 am - 9:00 am: Breakfast
9:00 am: HACK!
12:00 pm - 1:00 pm: Lunch
1:00 pm - 2:00pm: Final Pitch Preparation
2:00 pm: Demo and Pitch Program
3:30 pm: Judges deliberate
4:00 pm: Winners announced and Prizes given out!
5:00 pm - Venue Closes