Description
Awarding the great Hispanic / Latin American women in Canada, recognizing their contribution to our society
A night to remember!
Featuring Music and dance performances
PRESALE TICKETS
VIP $40.00
REG $20.00
INVITE
MYRNA KAHAM PRODUCTIONS
HISPANIC CANADIAN HERITAGE COUNCIL
More Information at WWW.lideres.ca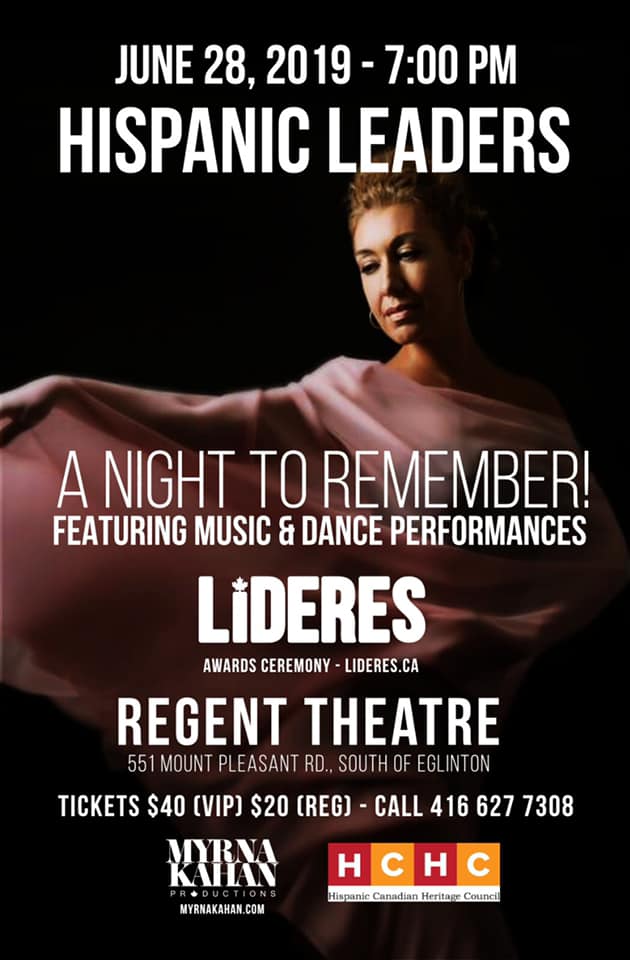 Organizer of Hispanic Leaders 2019
The Hispanic Canadian Heritage Council (HCHC) is an umbrella organization constituted in 2008 by key institutions from the Hispanic / Latin American community of Toronto with a long and proven history of working with the community since 1973. The HCHC is a non-profit organization established with the purpose to highlight and promote the contribution of Hispanic / Latin American culture to the evolving fabric of Canadian Heritage.
One of the main activities of the HCHC is the celebration of the Hispanic / Latin American Heritage Month on October of each year, as it had been declared for the Toronto City Council and for the Ontario Legislature. The Hispanic-Latin American Heritage topic is a growing celebration that every year, throughout the year, include dozens of arts, cultural, civic and community events.
The work of the HCHC is funded by grants from different government levels and by sponsorships by private corporations. The HCHC is working in four areas:
1. Civic Engagement. 2. The Toronto Latin American Film Festival (LATAFF). 3. Latin Cuisine (Latin American and Spanish restaurants to showcase the Latin American and Spanish cuisine in the GTA). 4. The artistic Magic of Latin America (photography, painting and sculpture exhibitions).