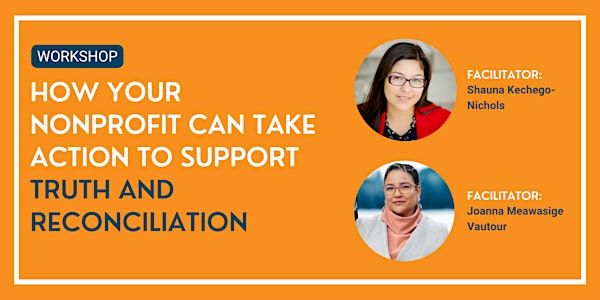 How your nonprofit can take action to support Truth and Reconciliation
Join us to learn how your nonprofit can embed some of the 94 Calls to Action into your mission and organizational priorities.
Refund Policy
Contact the organizer to request a refund.
Eventbrite's fee is nonrefundable.
About this event
Note: This workshop is for settler-led nonprofit organizations.
As settler-led nonprofits, it is important for us to identify the active roles we may play in perpetuating colonization and white supremacy. We must urgently address the work required to dismantle systemic and structural racial inequities within our organizations and communities that are a result of settler colonialism. Regardless of mission or subsector, this workshop will be relevant for all settler-led nonprofits because it will provide practical examples and ways that your organization can contribute to the advancement of reconciliation.
At ONN, we believe that, as nonprofits, we must take seriously our role in responding to the Truth and Reconciliation Commission's Calls to Action. We are on a journey for our own organization, and part of our work to support the nonprofit sector is to facilitate opportunities for nonprofits to learn, and spaces for us to be in dialogue with peers and experts.
For there to be meaningful movement toward reconciliation, it is critical for nonprofits to identify which of the 94 Calls to Action can be adapted into your organization's work and priorities.
Workshop Objectives:
Understanding the role of settler-led organizations in addressing anti-Indigeneity within organization's cultures, practices, policies, engagement with First Nations organizations and Peoples, and more.
Developing ways to embed some of the Calls to Action within your organization's mission, and workplace culture.
Enhancing capacity to be in right relations with Indigenous communities.
Topics covered will include:
History of First Nations, language loss and language to use moving forward.
Changing the narrative of trauma.
Overview of Truth and Reconciliation Calls to Action.
Complexities of self-identification amongst Indigenous Peoples.
Workshop Facilitators:
Joanna Meawasige Vautour, Anishinaabe Kwe (she/her), MSW, RSW
Shauna Kechego-Nichols, Anishinaabe Kwe (she/her), B.A., MSW, RSW
This workshop will not be recorded. All registered participants will receive the slide deck, and a curated list of resources within one week of the event. This workshop is free for all current ONN members. Please contact rishit@theonn.ca for the promo code.
Facilitator Bios
Joanna Meawasige Vautour is Anishinaabe and a registered member of Serpent River First Nation (SRFN). She was born and raised in Toronto by her Anishinaabe mother, who ensured a connection to their family and community in SRFN. Joanna's ancestry from her paternal side is French from New Brunswick. She has 20 years of Social Work experience working in the Toronto Indigenous community in youth recreation, family and community development, child welfare, mental health and patient navigation in cancer care. Joanna integrates her Anishinaabe lived experiences and traditional teachings into her professional practice.
Currently, she is the Regional Indigenous Cancer Lead for the Toronto Regional Cancer Program. Joanna has an interest in Palliative Care, where she was the Lead in First Nation, Inuit and Metis Engagement for the Ontario Palliative Care Network in Partnership with the Indigenous Cancer Care Unit at Ontario Health. Her work continues in Palliative Care as a community facilitator for Palliative Care Training for Frontline Workers in Indigenous Communities with the Centre for Education and Research on Aging & Health and as a Senior Research Coordinator at McMaster University, collaborating with interdisciplinary health care providers in First Nation communities to co-design palliative care education for those community helpers in First Nations communities.
As a clinical social worker, Joanna has provided instruction in the Social Service Worker and Mental Health &; Addictions Programs at FNTI. She also offers clinical supervision for a mental health organization that services Black youth and Indigenous communities. In her home community, SRFN where she conducts Full Moon Ceremonies and Hand-Drumming for Women.
Shauna Kechego-Nichols is Anishinaabekwe from Oneida and Chippewas of the Thames First Nation. She is a social worker specializing in intergenerational trauma and resiliency. Shauna is a community developer, instructor at the First Nations Technical Institute, and a curriculum developer for Old Sun Community College. She has a BA in Sociocultural Anthropology (2018) from Western University and a Master of Social Work (2021) from the University of Toronto. Her past work has included governance and public policy.
As well, she has over 15 year's experience in research and development initiatives with a focus on intersectionality, safe spaces, social inclusion, and health equity. She has also provided capacity building and leadership training to Indigenous-led grassroots groups in Northern remote communities. Additionally, Shauna has contributed to a provincial strategy to have a Missing and Murdered Indigenous Women and Girls (MMIWG) curriculum embedded within schools and government institutions.