HR Alliance Canada is pleased to invite you to a webinar, "Discovering Blind Spots to Power Performance"
About this Event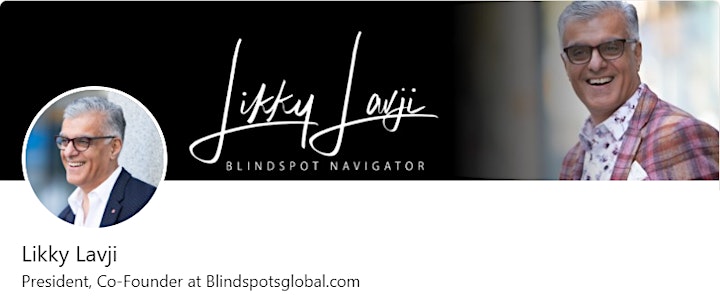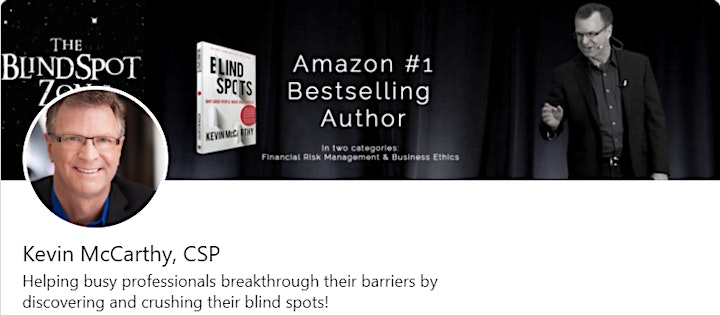 When: Wednesday, February 3, 2021 - 8:00 PM - 9:30 PM (ET)
This webinar is a must for ALL HR professionals, Entrepreneurs and those keen to learn about succeeding in business.
Why you should attend:
Learn about the importance of succeeding in business skills that are in demand.
Do you know what's stopping you from succeeding in business or are you avoiding those hard conversations?
Are you one of those, operating through life, believing you are effective in your business?
Things you don't recognize that cause you to be ineffective are your Blind Spots where you are not achieving what you would like. Blind Spots cause people and organizations to become misaligned. Lack of trust, integrity, clarity, inauthenticity and disconnection occurs from not identifying the Blind Spots.
Keynote Speakers
Likky Lavji: He is known as the "Blind Spot Navigator". In-demand workshop leader and keynote speaker who's passionate about helping leaders break through their personal, un-recognized barriers in order to unleash their full potential.
If you want to learn more about your Blind Spot, try out Likky's "Self-Assessment", at no cost.
Kevin McCarthy: Author of the bestselling book, BlindSpots – Why Good People Make Bad Choices - holds the highest certification recognized globally by the speaking industry, "Certified Speaking Professional".
An award-winning sales professional, he built one of the largest Century 21 offices in America, then developed and sold a dot-com startup. In 2004, his boss was arrested for the largest stock fraud in Washington State history. As a result, Kevin spent 33 months in federal prison for a crime he didn't knowingly commit. There he studied Cognitive Psychology and recognized — then deeply researched — the blind spots that lead to his predicament.
Agenda:
8:00 - 8:10 pm - Welcome Remarks - Noorjehan Juma, Chairperson National HR Alliance
8:10 - 8:40 pm - Speaker - Likky Lavji, Founder & President of the Dante Group
8:40 - 9:00 pm - Speaker - Kevin McCarthy, Business Partner
9:00 - 9:30 pm - Panel Discussion & QA
HR Alliance Website - http://ismailihralliances.com/
Join the HR Alliance Canada - https://forms.gle/LnopaucEWVkNHqhi8
Meeting/Webinar Link - https://meetings.ringcentral.com/j/1496498335
P.S. Only 200 spots are available.