Location
Irish Loop Oceanside Chalet
24 Mickey Broads Place
Tors Cove, NL A0A 4A0
Canada
Refund policy
Refunds up to 30 days before event
Description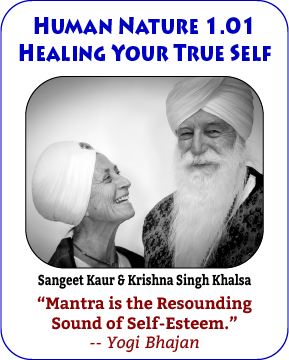 This course will introduce you to the Ten Subtle Bodies of your true self. It will provide you with powerful insights into our primal human nature. Discover true self-understanding that can free you to live as the kind of authentic person that we all have always wanted to be -- with expert guided meditation, breathing practice, silence and singing from your heart and soul.
Take something home you can enjoy for the rest of your life.
Course leaders, Sangeet Kaur and Krishna Singh, have been teaching Kundalini Yoga for decades, as it was taught by Yogi Bhajan.

"A realized human being is one who can heal and protect herself, or himself and others with kind and honest speech, a smile, song or touch – with a loving heart and radiant presence."
-- from the teachings of Yogi Bhajan
Sangeet Kaur discovered her singing voice at the age of eight, and studied music performance at the University of Toronto. After several years of singing with Canada's first professional chamber choir she became a longtime student/teacher of Yogi Bhajan, having joined the Guru Ram Das Ashram in Toronto in 1978. Sangeet Kaur is well-known as an accomplished singer and recording artist, having produced a number of recordings of Sikh Gurbani Kirtan that are now regarded as "classics." Over the decades she has received countless letters and testimonials of gratitude, especially for the healing experiences people have received from her recording of Dhan Dhan Ram Das Guru. She retired in 2016 from her professional career as a Speech Language Pathologist for children at public schools in northern New Mexico, USA. She serves tirelessly in her local Sikh community, in her home studio, and via the internet -- mentoring others to find their own true voices, in their musicianship, and in their performance of sacred and inspiring music.
Krishna Singh came of age in the mid-1960s, out of the pain and chaos of the Vietnam war and the civil rights eras, from a generation of conflicted youth who sought to find its own authentic voice and truth. He left a PhD. program studying Phenomenology of Language, and spent several challenging years praying to find a spiritual guide for a life he would truly want to live. He was drawn to New Mexico in 1969, and the subtle guidance that led him to find the Kundalini Yoga ashram there seemed swift and miraculous. He began teaching Kundalini Yoga in January 1970. Throughout the 1970s and early '80s he engaged with many others in creating great businesses and a cultural lifestyle based in spiritual values. As a Sikh with beard and turban, he was accepted and excelled as a leadership trainer in the US Army Reserve in Los Angeles. He is now devoted to sharing what he has learned from a life of immersion in the teachings of Yogi Bhajan, Sikh Dharma, and many parallel spiritual and vocational paths.
Regular Fri-Sun price $225
* Accommodations, meals & tax not included.
Hours of the retreat are as follows:
Friday September 14- 9 am-6:30 pm
Saturday September 15- 9am- 6:30 pm
Sunday September 16- 9am- 5 pm
**Sat-Sun registration available-see ticketing
Meals:
Lacto-vegetarian meal packages* - optional. To order, please email mara@healgently.ca by September 10th.

8:30 am - 9 am Breakfast (fruit, yogurt, cereal, nuts & seeds, Yogi Tea, coffee) Friday, Saturday & Sunday $30 (Sat-Sun $20)

1 pm - 2:30 pm Lunch (kitcheree each day along with other luncheon options) Friday, Saturday & Sunday $38 (Sat- Sun $25)

6:30pm Supper Friday & Saturday $50 (Friday or Saturday only $25)
*All packages add HST
Snacks will be provided.
Vegan? Get in touch...

Accommodations:

Celtic Rendezvous Cottages has kindly extended a 10% discount for attendees of the retreat September 13-16. (Consider coming out Thursday night so you'll be here and ready for Friday morning!) Just mention that you are attending the weekend retreat.There are oceanfront cottages, oceanfront hotel suites, hotel rooms and an RV park! For information on accommodations contact Barb at Celtic Rendezvous (709)334-3341.

Any other questions? Email mara@healgently.ca