Description
InnovateWork is coming to the Peel Region! Join Aldeen Simmonds-Thorpe, Bill Banham, Rob Catalano and top speakers from HR, Talent, and Tech.
Why Attend?
* Network with HR, Talent, and Tech pros and make new connections
* Share innovative ideas and help improve the world of work
* Hear from awesome local thought leaders
The meetup will be hosted at 4180 Duke of York Boulevard near Square One.
Venue and Logistics
Directions to HMC via public transit: https://www.sheridancollege.ca/about/campus-locations/hmc/directions
The Lecture Hall A-145 is located in the A-Wing building, which is the building closest to the corner of Prince of Wales & Duke of York Blvd.
Parking - The closest parking lot can be accessed off Living Arts Drive between Square One Drive and Prince of Wales Drive. There are pay stations located in the parking lot (lots are owned by City of Mississauga)
Agenda
5:30 - 6:30 - Registration & Networking
6:30 - 6:35 - Welcome address from Aldeen Simmonds-Thorpe, InnovateWork Peel Meetup Co-Organiser and Founder of Aldeen ST Consulting and Bill Banham, InnovateWork Co-Founder and Publisher at The HR Gazette.

6:35 - 7:10 - HR Passion Series:
1. Lessons from Managing an LMS: How L&D Got it Wrong and What to do About it | Michelle Chan, Manager, Employee Engagement, Air Canada
2. The Importance of Creating Safe/Brave Spaces | Greg Smith, Partner, Lighthouse Nine Group
3. It's more about Inclusion | Karen Simpson, Sr Talent Inclusion Partner - Women in Leadership, TD Canada
7:15 - 7:20 - Sponsor address - Libby Stewart, Head of Professional Services & Research, 7Geese
7:20 - 8:00: - Panel Discussion:
The People Analytics Journey: Companies are starting to shift their focus to using metrics and People Analytics in a new way. This talk will discuss how companies are building teams around People Analytics, what key metrics you should track, and approaches to take (and avoid).
Moderated by: Pam Ross, Culture Change Agent, Blue Rebel Works
Panelists:
Travis Windling, HR Analytics Enablement Lead, Human Resources, Manulife

Priyanka Khosla, People Insights and Strategic Workforce Planning, Sobeys


Patrick Joseph Tuason, Manager, HR Reporting & Analytics, Hydro One

Anna Petosa, VP, People Ops, Pelmorex
7:55 - 8:25 - Networking
Interested in sponsoring a meetup or the InnovateWork Summit? Check out sponsorship options to learn more: innovatework.co/sponsorship/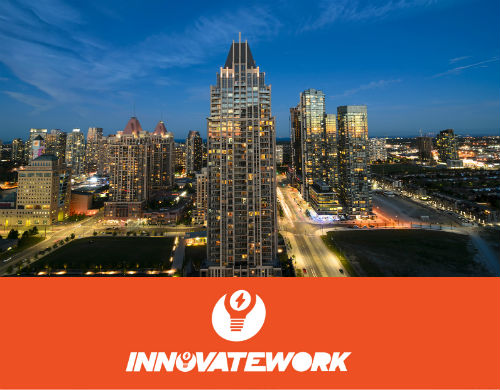 HRchat Podcast - InnovateWork Peel Preview

In this special episode of the HRchat show, Bill Banham and Aldeen Simmonds-Thorpe look ahead to the first InnovateWork summit happening on September 17th in Mississauga.
About our Host
Aldeen Simmonds-Thorpe is an HR Transformation Strategist, Consultant, Coach and Speaker enabling businesses to solve problems and navigate human resource and operations challenges that result in more efficient processes and stronger, diverse and more inclusive teams while mitigating risk and maintaining compliance. With over 10 years of experience in full-cycle HR and operations, she is a trusted Advisor and Coach to entrepreneurs, business owners and professionals employing strategies that allow them to adapt, compete and thrive in local and global markets.
Sponsors and Partners
The HR Gazette - Organizing Sponsor - Latest opinion, reviews and podcasts for pros interested in HR Technology, Talent, Performance, Learning, Leadership.
WorkTango - Organizing Sponsor - A platform to give employees a voice and companies actionable insight.
Thorpe Benefits - Specialists in group benefits. Developing and implementing solutions that address both employee and organizational health.
Aldeen ST Consulting - Working with SMBs to proactively transform and align their HR and business strategies.
9 to Thrive - Helping companies create a positive work environment that fosters more engaged and happy employees.
High Road Human Capital: Veteran-owned, Diversity Supplier specializing in Talent Acquisition and Human Resources. High Road provides the resources, strategy, and vision to help. Services include resume screening and assessment, HR policy and procedure.
7Geese - Helping businesses achieve ambitious company goals with OKRs and retain their people by enabling feedback, coaching, performance reviews, and career growth plans.
ChangeVU - The digital platform designed to deliver successful change more consistently by identifying and mitigating people risks. The system creates success profiles and change-oriented data analytics to improve decision-making speed and reliability.
TorontoJobs.ca - Offering services designed to connect local employers to skilled candidates throughout the Toronto Area.
Xref - An online, mobile-friendly reference checking tool that enables fast, data-driven hiring decisions.
Global HR Collective - Created to design, develop & share the latest thinking, trends & best practices affecting the HR profession.
Lighthouse Labs - Empowering students, launching careers, and contributing to the growth of Canada's tech industry.
Startup Canada - We are entrepreneurs working together to build a Canada for entrepreneurs and give a voice to the Canadian startup community.
Speaker Bios:
Karen Simpson, Sr Talent Inclusion Partner - Women in Leadership, TD Canada
Recently awarded #1 Top Recruiter in Canada. Karen has spent her career in both Corporate HR and the recruitment agency sector facilitating hires and programs for many of Canada's top corporations. In her current role with TD, she champions and pipelines external female talent into under-represented businesses. There is another side to Karen, she's climbed the highest mountain in 8 countries and this year became an Amazon #1 bestseller with Carpe Diem.
Greg Smith, Partner, Lighthouse Nine Group
Greg Smith heads the firm's Leadership Development and Coaching practice. He also serves clients in
the areas of Change Management, Strategy and Alignment, Organizational Design, Culture,
Engagement and High Performing Teams.
Greg is a senior business leader who has thrived in challenging business environments for more than 25 years, achieving results that are in line with the required strategic and cultural transformation. His multiple industry experience and expertise in strategy formation, organizational design, talent development and culture building combined with his HR expertise makes him an excellent Trusted Advisor.
As a senior leader at Porter Airlines, Campbell Soup, Marriott and Wolseley, Greg was known as a leader who committed to breakthrough performance and innovation with a pragmatic business focus. His passion for people and his strong creative ability resulted in significant advancement in team member engagement and connectivity in both the profit and non-profit sectors.

Greg has served on numerous boards and councils including the Daily Bread Food Bank, the Food Processors HR Council and co-chair of Matthew House Refugee Settlement Center board Greg has a proven track record of improving organizational performance through people while challenging conventional thinking. This mindset and experience are very consistent with Lighthouse NINE's multi-disciplinary approach and his focus on alignment & collaboration fits perfectly with our mission.
Michelle Chan, Air Canada
The fun stuff:
I'm an auditory and experiential learner, so hit me up with your favourite podcasts and super fun experiences! I also listen to audio books too:)

I'm a curious cat and look for ideas in all different places

I carry a notebook around with me to write random ideas that pop into my head

I'm a champion sleeper except when I travel on business

I'm a Gen Xer but I often get mistaken for a millennial
Now let's get down to business:
I'm a Manager, Employee Engagement at Air Canada and I love my job but my title doesn't really explain my career or what I'm passionate about

I'm passionate about exploring new ways of doing things in HR and while I have a discomfort with risk and failure (like many people do) I know that's the only way to learn!

I've spent the last 14 years of my career in Learning & Development, it when Air Canada offered me a job, I asked for any role outside of L&D you'll find out why in my talk about the LMS.
Pam Ross, Blue Rebel Works
After more than a dozen years in HR and training leadership roles, Pam Ross quit the corporate world with a mission to improve people's lives by making work awesome.
Her company, Blue Rebel Works, provides leadership and culture development for growing organizations who want to humanize work. Participants in Blue Rebel workshops leave inspired to try something new, to achieve their potential, and to make a positive impact on those around them. Their programs have a proven track record for increasing trust, communication and team effectiveness.
As a speaker, Pam shares facts, personal stories and examples of how cutting edge leaders and organizations are pushing the boundaries on how work is managed. Pam's contagious enthusiasm and focus on action leaves audiences ready to make positive change.
Travis Windling, HR Analytics Enablement Lead, Human Resources, Manulife
Travis is a visionary, always playing with some new or emerging trend/tool. He firmly believes that HR is on the path to change and getting people practices right is key to survival in a digital age. Engagement, Performance and Talent are what gets Travis excited at work! Interested in trying something crazy and making this a better place to work? Travis would love to connect!
You'll find him geeking out to some Dungeon Crawler board game, gaming on his custom build PC or playing with his 2 little ones in the metropolis of Wellesley Ontario.
Ask him about what's new in HR Trends, People Analytics or HR Tech @ Manulife and in the market!
Priyanka Khosla, People Insights and Strategic Workforce Planning, Sobeys
Priyanka is a creative problem-solver with expertise in using a data-driven approach to solve business and people problems. She blends her global experience as an internal and external consultant with her passion for analytics to develop unique solutions for improving the way people experience work. Recently, she won the prestigious Economic Times Young Leader and the Young HR Icon awards.
Always up for learning something new, Priyanka finds immense joy in understanding emerging trends and technologies to inculcate richer insights into her work.