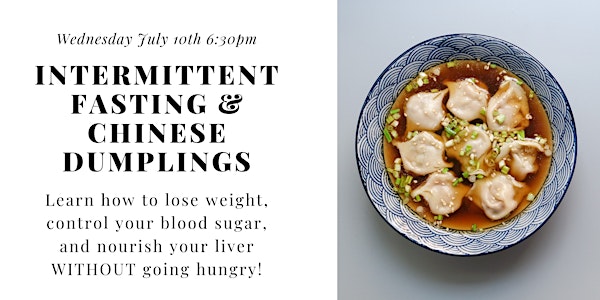 Intermittent Fasting & Chinese Dumplings with Rose Devries
When and where
Location
8417 Elbow Dr SW Haysboro Centre Calgary, AB T2V 1K8 Canada
Refund Policy
Refunds up to 7 days before event
Description
Intermittent Fasting and Chinese Dumplings: Wednesday July 10th at 6:30pm
with Rose Devries, owner of Lotus Herbal Health


From Rose: "My husband and I started a program to improve our liver health about 10 months ago, after receiving a scary diagnosis of non-alcoholic fatty liver disease. Even though I was eating a healthy vegetarian diet, my liver was in rough shape and my blood sugar had crept up to diabetic levels. We are both experiencing similar benefits on this program, losing weight and getting our blood sugar back to normal levels! Everyone who sees me comments on my weight-loss and younger-looking skin! Best of all, my liver has regenerated itself and my energy has returned."
What is this program? Intermittent fasting.
Will you go hungry while intermittent fasting? Not if you ease into it with the right support!
What will you learn at Rose's talk?
-how to guide the body to burn stored fat
-how to get into fasting/ketosis without feeling hungry
-the meaning of ketosis, ketones, and autophagy
-the benefits of fasting for weight-loss, liver health, and overall rejuvenation
-how to make Chinese dumplings!
"Chinese dumpling making is popular in the northern part of China. My father grew up in that region, so I had an amazing teacher when he was still alive. It was such gift which I never forget and would love to share with all of you!"
Last time Rose did a similar talk we had a VERY full house, so register soon to avoid missing out! And you don't want to miss an opportunity to try her cooking! Trust us :)