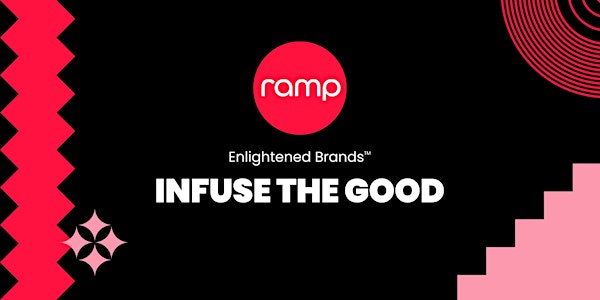 Introduction to Enlightened Brands - December 2022
Find out how Ramp brings the expertise, partners, and tools to help every organization succeed as an Enlightened Brand.
About this event
Enlightened Brands™ are human-centred, industry-leading agents of growth and change.
Why they thrive is no secret; they're deeply and authentically purpose-driven from the inside out. Enlightened Brands share a commitment to infusing the good in ways that permeate all touchpoints of the business. They cultivate lasting connections to those they serve and enjoy resilience in the face of a world in constant flux. Their customers are more loyal. Their employees are happier. Find out how Ramp brings the expertise, partners, and tools to help every organization succeed as an Enlightened Brand.
Discover your Enlightened Brands™ score
Shelley Mayer, CM (she/her)
Shelley Mayer, CM founded Ramp in 2011. A passionate and visionary leader, Shelley is committed to the intersection of purpose and profit. Shelley believes that collaboration is at the heart of all success and is well known as an industry connector and matchmaker.
With deep business experience and extensive knowledge of the social impact space, Shelley has advised hundreds of organizations in their quest for transformational change. A trusted industry expert, coach, and advisor, Shelley has a reputation for challenging the status quo and creative problem-solving. In 2021, bringing together a decade of learning, Shelley pioneered Ramp's Enlightened Brand™ method.
Shelley holds a business degree from Wilfrid Laurier University and the Chartered Marketer designation with the Canadian Marketing Association, where she's sat on the CMA NFP Council since 2019. She is also a Futurpreneur mentor and a founding and ongoing Activator with SheEO.
With more than 20 years of combined client and agency experience, Shelley is a trusted strategic advisor to social impact organizations and has worked with a broad range of clients in the charity and NFP sector, including World Animal Protection, the Toronto Humane Society, the Alzheimer Society Canada, Parkinson Canada, West Park Foundation, Food Banks Canada, CAMH Foundation, Habitat for Humanity Canada, the Canadian Mental Health Association and more.
About Ramp
Ramp is an award-winning social profit consultancy and Certified B Corporation® with more than a decade of experience. Our pioneering, design-led model brings a curated collective of creative, strategic, and impact experts to transform businesses and organizations into responsible, industry-leading, and human-centred Enlightened Brands™. We pair business and impact consulting with brand strategy and creative services to elevate every organization's results and impact.