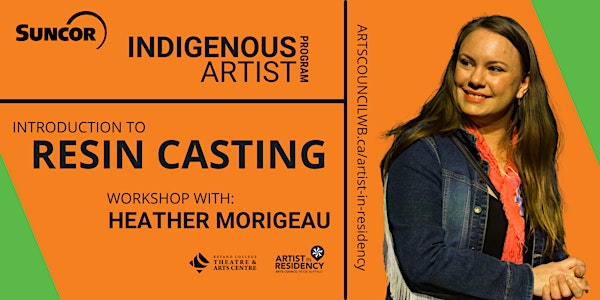 Introduction to Resin Casting: Workshop with Heather Morigeau
A basic introduction, demonstration, and experimentation class with UV resin and silicone molds.
When and where
Location
Keyano College 8115 Franklin Avenue Fort McMurray, AB T9H 2H7 Canada
About this event
This workshop is presented as part of the Indigenous Artist in Residency Program.
Mixed-Indigenous two-spirit artist and designer, Heather Morigeau offers basic instruction, demonstrations, and an opportunity to experiment with UV resin and silicone molds. This contemporary expression of traditional Indigenous arts focuses on encapsulating Indigenous teachings and medicines.
Inspired by Louis Riel of the Métis Nation, who once said "My people will sleep for one hundred years, but when they awake, it will be the artists who give them their spirit back," Morigeau believes that arts are medicine.
Her practice embodies her own healing journey from addiction, mental illness and colonialism.
Artists of all experience levels and disciplines are welcome. Food provided at the workshop.
Event Details
Date: October 30, 2021
Time: 11 a.m. - 4 p.m.
Location: Keyano College, Printmaking Studio - Room. AC 125
Admission Fees
Health & Safety
Photo ID and Proof of Vaccination are required to participate.
With consideration for everyone's health and safety, participants will also be required to wear masks for the duration of the workshop and maintain six feet apart.
About the Indigenous Artist in Residency Program
This Fall, we welcome artist Heather Morigeau to the Wood Buffalo region as we launch into the first iteration of the Indigenous Artist in Residency Program.
Much like the Artist in Residency program, this stream follows the traditional residency model and is based on the same idea of creating art and engaging with the community through art. This stream supports an Indigenous artist living in Canada that has an artistic career based on using traditional knowledge, skills and materials to tell their contemporary story.
Learn more about the Indigenous Artist in Residency Program.
Questions and More Information
For questions or more information, please contact Indigenous Programs Coordinator, Nick Vardy at nick@artscouncilwb.ca.