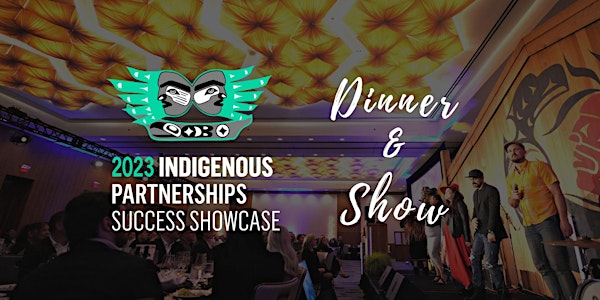 IPSS 2023 Dinner
An evening to celebrate Indigenous partnerships and the path to economic reconciliation.
By Indigenous Partnerships Success Showcase
Date and time
Thu, Jun 1, 2023 7:00 PM - 9:00 PM PDT
Location
Vancouver Convention Centre West Building Canada Place Vancouver, BC V6C 3G3 Canada
Refund Policy
Contact the organizer to request a refund.
About this event
Purpose. Relationships. Vision.
The IPSS 2023 Dinner will feature an Indigenous fashion show from world-renowned Haida designer Dorothy Grant with music from DJ Kookum, as well as performances by award-winning Indigenous musicians Joey Stylez and Carson Gray.
2023 Dinner attendees will enjoy a plated four-course dinner with a choice of wine or non-alcoholic beverages. Tables of ten may be purchased by payment by credit card or via cheque/EFT. Please be sure to indicate dietary restrictions or allergies during ticketing.
Please note that access to the conference itself is separately ticketed. Attendees who wish to attend IPSS 2023 proceedings in addition to the 2023 dinner can do so by selecting the appropriate add-ons within the primary ticketing page. Please also note that the 2023 Dinner is a separate event from the June 1st Signature Reception, which takes place from 5:00-7:00 PM following the main conference event and immediately before the 2023 Dinner (tickets to the Signature Reception are available as a complimentary add-on if selected when purchasing conference tickets).
While access to the conference is separately ticketed, dinner-only attendees may register for complimentary access to the pre-dinner reception (5:00 pm to 7:00 pm) and late night activities off-site (9:00 pm to late) via the main conference ticketing page (see add-ons section).
Please be sure to indicate dietary restrictions or allergies during ticketing.
Purchasing more than one ticket?
Enter the company/organization name in the first name field.
Sequentially number the unconfirmed attendees in the last name field. Ex: #1, #2, #3, etc.
Enter the email of the person who is managing the ticket so they may access it for later edits.
Please provide final names no later than Friday, May 26, 2023 at 4:00 pm Pacific.
Follow the link "Go to My Tickets" link (large orange button) in the email with the subject line "Your Tickets for Indigenous Partnerships Success Showcase 2023," and edit the attendee details. Please ensure that "Send confirmation email to new attendee," has been ticked so that the person attending receives their ticket.
Edit any complimentary add-ons or conference registrations accordingly to ensure that names, emails, and company names are identical.
Purchasing a table?
Refunds
About the organizer
In a time of transformative change, the Indigenous Partnerships Success Showcase (IPSS) seeks to highlight the ways that leading-edge relationships between Indigenous business and corporate Canada are making reconciliation a reality for the whole nation.