"It's Still All In Your Head" with Dr. Diane Russell
Description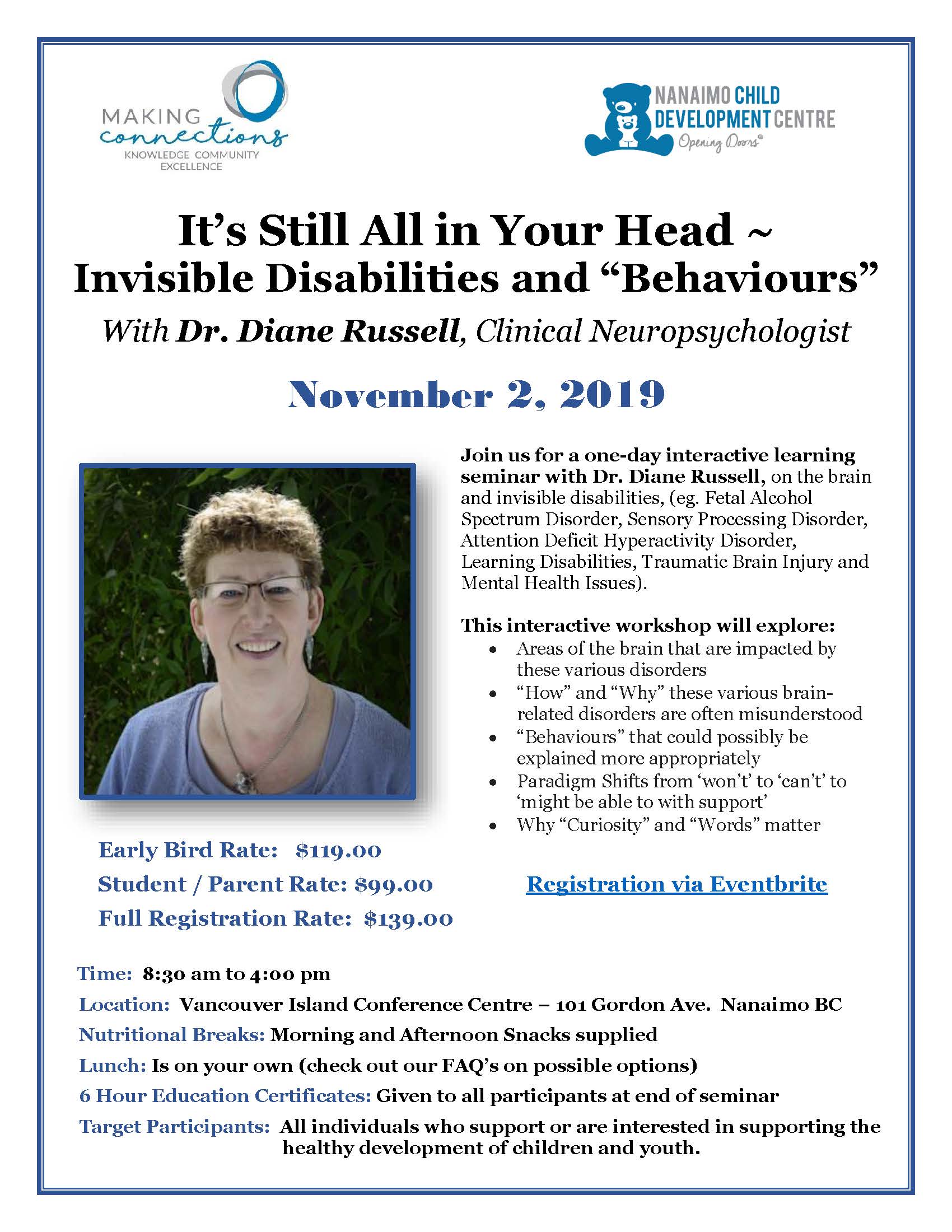 For more info on Conference please send an email to our conference coordinator, Kimberlee Howland at kimberlee@nanaimocdc.com or call 250-753-0251 ext. 259.
---
FAQS
WHO IS THIS CONFERENCE FOR?
This Conference will be of interest to all individuals who support or are interested in supporting the healthy development of children and youth.

LUNCH OPTIONS WITHIN THE CONFERENCE CENTRE AREA?
There are a lot of cafe / restaraunt options in our downtown core that are walking distance from the Conference Centre. You will find a list of options within your delegates package.
WILL THERE BE CONTINUING EDUCATION / PROFESSIONAL DEVELOPMENT CERTIFICATES AVAILABLE?
Yes, at end of conference there will be participation certificates with acknowledgement of continuing education / professional development of 6 hours.
WHAT ARE MY TRANSPORTATION/PARKING OPTIONS GETTING TO THE EVENT?
If you are traveling from outside of Vancouver Island:
There is plenty of underground parking at the Vancouver Island Conference Centre... just remember to bring cash or credit card as this is pay parking.
WHAT IS THE REFUND POLICY?
Your ticket can be refunded (less Eventbrite administration fees) right here on Eventbrite up to 30 days prior to the event ... after that tickets are transferable to another attendee.
WHAT DO I DO, IF ALL THE CONFERENCE TICKETS ARE SOLD OUT?
Please contact Kimberlee and she will add you to the wait list and contact you, if and when space becomes available. Please email info@makingconnectionsconference.com or call 250-753-0251 ext 259
IF I HAVE ANY FURTHER QUESTIONS, WHO WOULD I CONTACT?
Please email info@makingconnectionsconference.com or call Kimberlee at 250-753-0251 ext 259