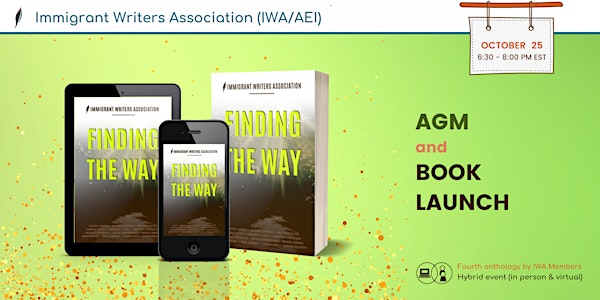 IWA's AGM and BOOK LAUNCH
5th IWA AGM and book launch of the 4th anthology written by IWA members: Finding The Way
When and where
Location
Toronto City Hall - Committee Room #4 100 Queen Street West Toronto, ON M5G 1P5 Canada
About this event
Join us for this hybrid* event (in person and virtual) to celebrate:
The fifth Annual General Meeting (AGM) of the Immigrant Writers Association (IWA) / Association des écrivains immigrants (AEI)
The official launch of IWA's 2022 anthology, Finding The Way.
The event is open to IWA members and the general public.
What does "finding the way" mean to you?
We posed the same question to IWA members and this uplifting anthology is the result. Which shows, once again, that exposure to a multicultural environment awakens the spirit.
About the book:
Finding The Way—an anthology by thirteen Canadian immigrant writers—is a collection of fiction and non-fiction stories and poetry that portrays hope, courage, resilience, and grit rekindled in difficult situations. Unexpectedly sometimes.
Whether it's about life's signs that forged trailblazers … understanding that "home" is not a place … self-realization and courage to stand up triggered by Grandma's haunting words … a quest to find alternative ways for mental health and well-being… enlightening transitions … or a wake-up call for humanity, there are deeper universal themes woven into this book.
You'll recognize or become acquainted with cultural aspects specific to the contributors' countries of origin, which have influenced their lives and way of thinking: Ghana, Ukraine, Romania, Russia, USA, India, United Arab Emirates, Senegal, Cuba, Trinidad and Tobago.
This is the fourth anthology published by IWA** and written by its members. All proceeds from the anthology sales go to supporting IWA's programming and its next anthologies.
Event agenda:
6:30 pm – 7 pm: IWA's Annual General Meeting
7:00 pm – 8 pm: Book Launch (readings, draw, and other surprises).
Come celebrate with us and meet the Finding The Way anthology contributors!
For non-IWA members: if you'd like to participate only at the book launch section of this event, you can join us at 7:00 pm.
After IWA's Book Launch event there will be an after-party at a nearby restaurant in Toronto. All attendees are invited!
———
"With writers coming from all over the world, reading the Finding The Way anthology by Immigrant Writers Association allows us to visit somewhere new, transporting us to the past, returning to the present, and taking us to the future. It is a fascinating read.
The stories may be diverse, but a lot of things unite them. Each literary piece depicts daring, resilience, optimism, and the universal concerns of family, friends, love, and leaving home. Some stories will be more to your taste than others, but none are weak in substance. With 272 million international immigrants globally, according to the IOM World migration report in 2020, this book is both timely and relevant. And, if you're considering emigrating to another part of the world, this work could be a real treat. I highly recommend this book!"
Maria Victoria Beltran for Readers' Favorite
———
*If you cannot attend the event in person, register to receive the Zoom link via email to join us virtually.
**All IWA's anthologies—Building Bridges (2019), Grow Together (2020), Moving Forward (2021), Finding The Way (2022)—are available on Amazon.