Location
Mississauga
The Living Arts Centre
4141 Living Arts Drive
Mississauga, Ontario L5B 4B8
Canada
Description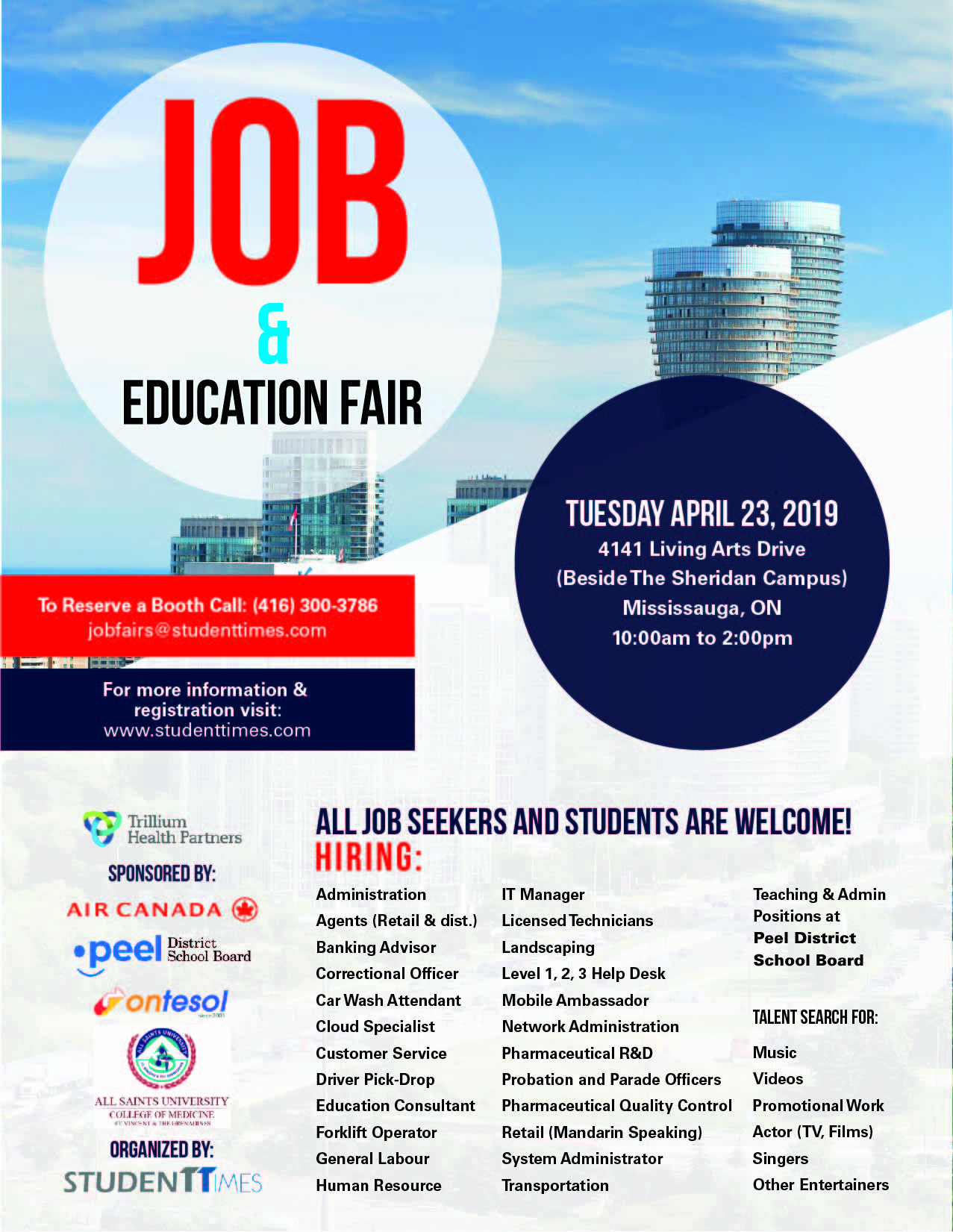 People remain the lifeblood of a company after all. Do you want to be selected as the 'best fits' and become part of Top Companies? So, join us at our Job & Education Fair- Great Networking Opportunities Here- Believe in yourself, Follow your passion and Don't Miss out!
WE ARE HERE TO HELP YOU LAND YOUR DREAM JOB
Studenttimes.com invites you to participate at our incredible Job & Education Fair!
Job & Education Fair
Date: on Tuesday April 23, 2019
Time: 10:00AM-2:00PM
Location: 4141 Living Arts Drive, Mississauga, ONTARIO L5B 4B8 at the Living Arts Centre (by Square One Mall and next to Sheridan College – Mississauga Campus)
Our Job & Education fair will offer both employers with an excellent opportunity to interact with their active and future staffing requirements as well as help job seekers to find and land their dream jobs. By implementing and focusing on the most skilled resources available, we have been successful at our past job fair events. Hence, your participation and interaction is highly elemental, as you will come upon the best professionals in the job market. Moreover, by investing in human resources and assisting in the capacity building as a participant will definitely add to your professional development overall.
Studenttimes is one of the top recruitment and staffing companies to most of Canada's Top Employers. At Studenttimes, we organize Public Job & Education Fairs, Private Job Fairs, and various Educational Fairs and we connect thousands of people to jobs at great companies. Studenttimes is also dedicated to youths and young adults pursuing an academic career
Our mission is to provide them with a national resource, equipped with all information required to assist in their endeavors. Be it Educational News, Employment News, Scholarships, Loans, Jobs, etc.,
Resources Provided to the General Public
1. FREE Admission to the General Public
2. FREE Resume Critiques by Top Resume Experts
3. FREE Social Media Workshops — pertaining to Job Search & Training
Tips for Jobseekers:-
Research about the companies that will be attending, Be ready to market yourself, Have a few copies of your updated resumes, Prepare some questions to ask, Present yourself in a professional way, Schedule an appointment if you can with the employers, Collect some business cards of employers for additional contact details, Write thank you notes finally.
If you have any questions and if you would like to attend, please feel free to contact us directly at 416-300-3786 or by email at jobfairs@studenttimes.com
Studenttimes looks forward to seeing you successfully at this event!