Description
The Congress of Black Women of Canada, Ontario Region Invites you to join us at our Kay Livingstone Celebration Gala Dinner and Dance on February 17, 2017 at the Courtyard Marriott Hotel in Toronto.
Join us in celebrating the life and achievements of humanitarian, activist and founder of the Congress of Black Women of Canada, Kathleen (Kay) Livingstone. Recently commemorated by the Historic Sites and Monuments Board of Canada as a "Woman of National Historic Significance", her contributions continue to be acknowledged by Canada Post, who will honour Mrs. Livingstone on a stamp during Black History Month, February 2018.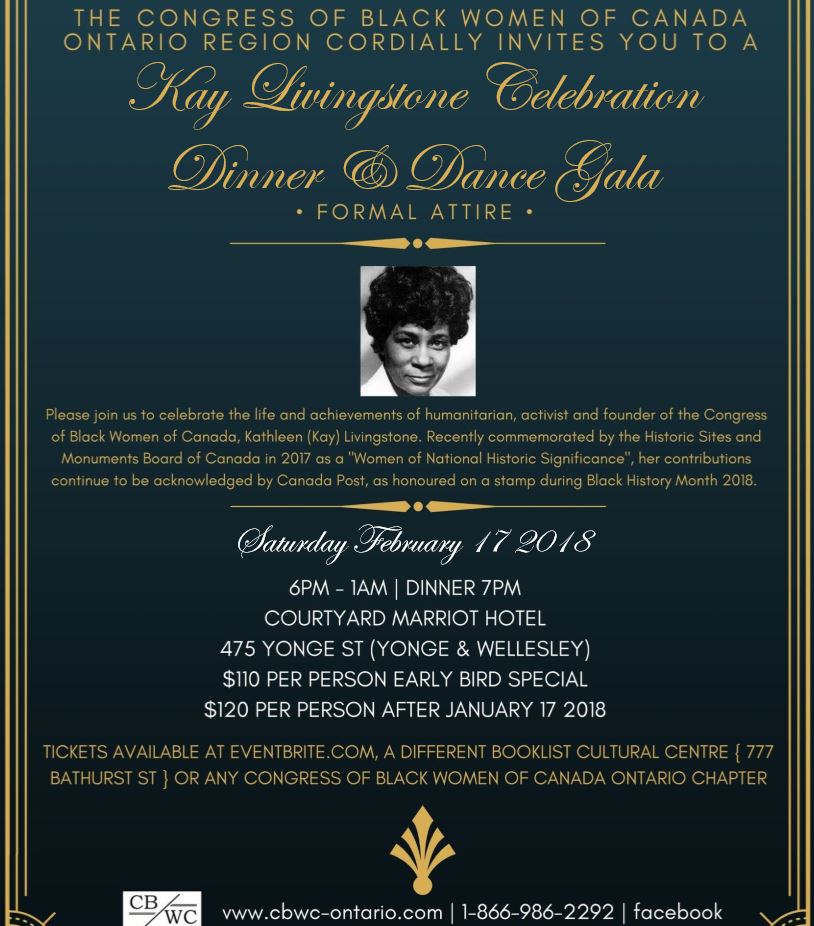 Kathleen (Kay) Livingstone (1918-1975)
Born in London, Ontario in 1918, Kathleen (Kay) Livingstone was a humanitarian, activist, actress, and radio host.
She was a founder of the Canadian Negro Women's Association (CANEWA), 1951. Livingstone was deeply involved in expanding a collective awareness and pride in the Toronto Black community in the post-Second World War period, all the while contributing to society's well-being through her work with the United Nations Association – Toronto Branch Women's Auxiliary, the local YWCA Foreign Affairs Committee, the National Black Coalition of Canada, the Canadian Council of Churches, the Legal Aid Society, and Heritage Ontario. Livingstone worked to break down prejudice and promote equality of individuals of all origins and contributed to the development of a more tolerant society
CANEWA evolved into the Congress of Black Women of Canada in 1973 when Mrs. Livingstone, the Founding President, coordinated the first meeting of the National Congress of Black Women at the Westbury Hotel (now the Courtyard Marriott) in Toronto.
------
Join with us on this historic occasion in celebrating this amazing trailblazer.