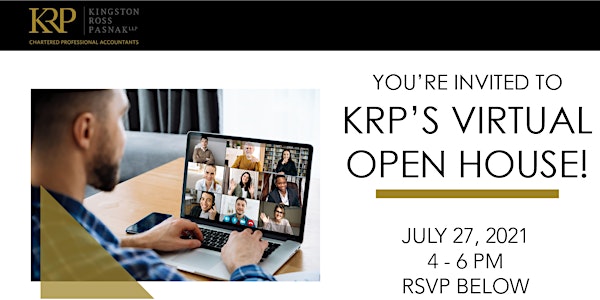 KRP's Virtual Open House
Get a feel for your future at KRP's Virtual Open House!
About this event
We may not be able to meet our prospective students in person this year, but we've found a way to show off our amazing firm through our interactive virtual open house. We want you to feel excited about our firm and learn more about why we are all so proud to work here—and we promise at the end you'll want to work here too!
Join us and learn about our firm, our people, and our culture, while also learning more about the CPA profession. Hear first-hand from our very own CEO, Landon Leclair, and several of our senior leaders! All attendees will have the opportunity to participate in a Q&A session and chat with our team members, at the end.
Our sessions will include:
Chats with several of our partners about their career trajectory and experience at KRP
An overview of our training program and in-house CPA support system
Our CPA Articling & Co-op Students' on-the-job experiences
Not only is this event free, all attendees will have their name entered in a draw to win some really great prizes!
If you are curious about KRP's work opportunities, or are keen to learn more about our firm and meet some of our team members, register by Wednesday, July 21st. We look forward to "seeing" you there!
If you have any questions or concerns, please reach out to Danysia Tash @ dtash@krpgroup.com.
KRP is the largest, local, independent, full service accounting firm in Alberta. The experience of 17 partners and the hard work of over 150 people is the foundation to KRP's extraordinary services, and lasting relationships. Our specialties go beyond conventional accounting and allows us to offer extremely valuable services to each and every client, while also providing unique training and growth opportunities for our staff.