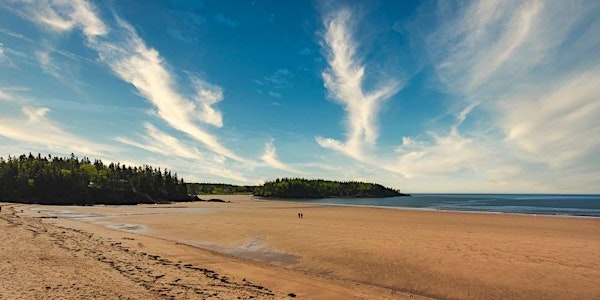 Learn To Camp New River - Apprendre à Camper with/avec: SUBARU
Educational hands on experience for first time/beginner campers.
When and where
Location
New River Beach Provincial Park 78 NEW RIVER BEACH RD New River Beach, NB E5J 1G7 Canada
About this event
Love the idea of camping, but don't know where to start? We can help you learn the skills you need for your first camping trip!
Learn to Camp will provide you and your family with the opportunity to learn about several aspects of camping. Whether you are a first-time camper or a regular visitor, our friendly Park Ambassadors will help you have a great outdoor experience.
At Learn to Camp you will learn:
Campsite set up
Camping Safety
How to use camping equipment and more!
___________________________________________________________________________________________________________
Aimez-vous l'idée du camping, mais vous ne savez pas par où commencer? Nous pouvons vous aider à acquérir les compétences dont vous avez besoin pour votre premier voyage de camping!
Le programme Apprendre à Camper vous permettra, à vous et à votre famille, de découvrir plusieurs aspects du camping. Que vous soyez un campeur débutant ou un habitué, nos sympathiques ambassadeurs du parc vous aideront à vivre une expérience de plein air exceptionnelle.
Lors du programme Apprendre à camper, vous apprendrez:
L'installation d'un campement
Sécurité du camping
Comment utiliser l'équipement de camping et plus encore!
Check in 1:00PM Saturday afternoon at the campground office.
Check out 11:00AM Sunday morning.
All camping materials provided on site for participants.
Welcome to Mactaquac Learn To Camp!
Before you join us at the park be sure to check the weather and pack accordingly. Here are a few of the items you should pack:
• FOOD AND SNACKS. **Cooking stoves, pots, pans, serving materials, and utensils will be provided by parks NB**
• Close-toed shoes and/or hiking boots
• Sandals
• Socks
• Underwear
• Pyjamas
• Long pants
• Shorts
• Short-sleeved shirts
• Long-sleeved shirts / Sweater
• **Jackets / rain gear**
• Bathing suit
• Hat
• Sunglasses
• Mittens or gloves and toque (in cool weather)
• Long underwear (in cool weather)
For kids:
• A favourite toy
• Special blankets/ pillow
• Water toys or floats (e.g., Pool noodles, doughnut, sand toys)
• Games or deck of cards
• Storybooks
• Extra clothing
Toiletries:
• Sunscreen
• Bug repellent
• Toothbrush / Toothpaste/ Dental floss
• Soap
• Shampoo
• Deodorant
• Hairbrush
• Towel
• Washcloth
Its better to be prepared then to be left wanting.
__________________________________________________________________________________________________
Enregistrement à 13h00 le samedi après-midi au bureau du camping.
Départ à 11 h le dimanche matin.
Tout le matériel de camping est fourni sur place aux participants.
Bienvenue au camp d'apprentissage de Mactaquac!
Avant de nous rejoindre au parc, vérifiez la météo et préparez vos affaires en conséquence. Voici quelques-uns des articles que vous devriez emporter :
- NOURRITURE ET COLLATIONS. **Les cuisinières, les casseroles, les poêles, le matériel de service et les ustensiles seront fournis par parcs NB**.
- Des chaussures fermées et/ou des bottes de randonnée
- Sandales
- chaussettes
- Sous-vêtements
- Pyjamas
- Pantalon long
- Shorts
- Chemises à manches courtes
- Chemises à manches longues / pull-over
- **Vestes / vêtements de pluie**
- Maillot de bain
- Chapeau
- Lunettes de soleil
- Moufles ou gants et tuque (par temps frais)
- Sous-vêtements longs (par temps frais)
Pour les enfants :
- Un jouet préféré
- Couvertures spéciales/oreillers
- Jouets aquatiques ou flotteurs (p. ex. nouilles de piscine, beignets, jouets de sable)
- Jeux ou jeux de cartes
- Livres d'histoires
- Des vêtements supplémentaires
Articles de toilette :
- Crème solaire
- Répulsif pour insectes
- Brosse à dents / Dentifrice / Fil dentaire
- Savon
- Shampoing
- Déodorant
- Brosse à cheveux
- Serviette de toilette
- Gant de toilette
Il vaut mieux être préparé que de rester sur sa faim.