Description
Learning how to learn Code


One of the biggest challenges after being introduced to a new skill is where to go to continue learning. There is so much information out there that it is easy to be overwhelmed, confused and lost in it all.
In this workshop we'll give you easy access to invaluable learning techniques on how to teach yourself to code. You'll learn about basic programming terminologies, programming resources, and tricks and tips on how to keep self-education going.
This will be super useful to entrepreneurs who are sincere about building their prototypes and anyone who wants to jump on the path to coding.
Workshop Facilitator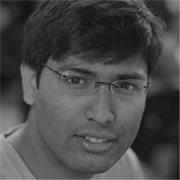 Chinmay Patel
Chinmay is the CEO and CO-Founder of API Garage, a platform to help developers design, document and test APIs. Chinmay has been a software developer for over the last 6 years and has built dozens of small and big projects. His favourite project is LinkedIn Profile View Extension. It's a chrome extension with over 10,000 users. He is also an open source contributor, and is building a team of open source ninjas in Toronto. His biggest achievements include winning Random Hacks of Kindness Hackathon and building features for Mozilla Thunderbird. He currently focuses full-time on improving and growing his API Garage platform to improve API development flows for developers.
THIS IS A FREE EVENT. RSVP NOW. LIMITED SEATING.


Photographs and video footage will be taken.

Accessible and regular parking is free during the evenings at:
Rose Theatre Brampton (2 min walk)
1 Theatre Lane, Brampton, ON L6V 0A3

City of Brampton Garage (5 min walk)
2 Wellington Street West

City of Brampton West Tower Garage (5 min walk)
41 George Street South
Accessibility:
LAB B is committed to accessibility for persons with disabilities. Please contact us 2 weeks before the event if you have any particular accommodation requirements at harman@lab-b.ca.
IF YOU CAN'T MAKE IT AFTER ALL
LAB B is a non-profit organization that strives to provide great events for the benefit of the community. These events are regularly free, and therefore spots can fill up fast. Be sure to open up your spot if you can't use it. In other words, If you RSVP and are unable to make the event, please cancel your reservation or notify us at create@lab-b.ca.