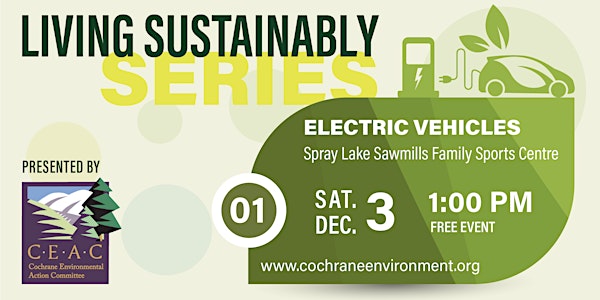 Living Sustainably series - Electric Vehicles
Come and learn all about Electric Vehicles (EVs) - buying new or used, batteries and their ranges, charging at home and away and much more.
When and where
Location
Spray Lake Sawmills Family Sports Centre 800 Griffin Road East Cochrane, AB T4C 2B8 Canada
About this event
The Cochrane Environmental Action Committee (CEAC) is excited to present, Living Sustainably, a series of presentations for Cochrane area residents. Topics include electric vehicles, residential solar, reducing water for landscaping, Wilderness Awareness, as well as a talk on how to reduce your environmental impact around your home. There will be a talk every month from December to May. These information sessions are free to attend but registration is required.
The Living Sustainably series will kick off on Saturday, December 3 at 1 - 3pm with a session about Electric Vehicles (EVs). What should you consider when you decide to buy an electric vehicle? Should you consider used or new, what should you know about batteries and their ranges, charging at home and away and much more. The talk will be held in the Curling Lounge, 2nd floor of at Spray Lakes Sawmills Family Sports Centre (SLSFSC).
One of the speakers will be Rajko Pavic from Go Electric Vehicle Corp. headquartered in Calgary (https://www.goelectricyyc.com/about ). They specialize in finding top value used electric vehicles from across North America.
For more information: info@cochraneenvironment.org or call 403-851-0562.