Description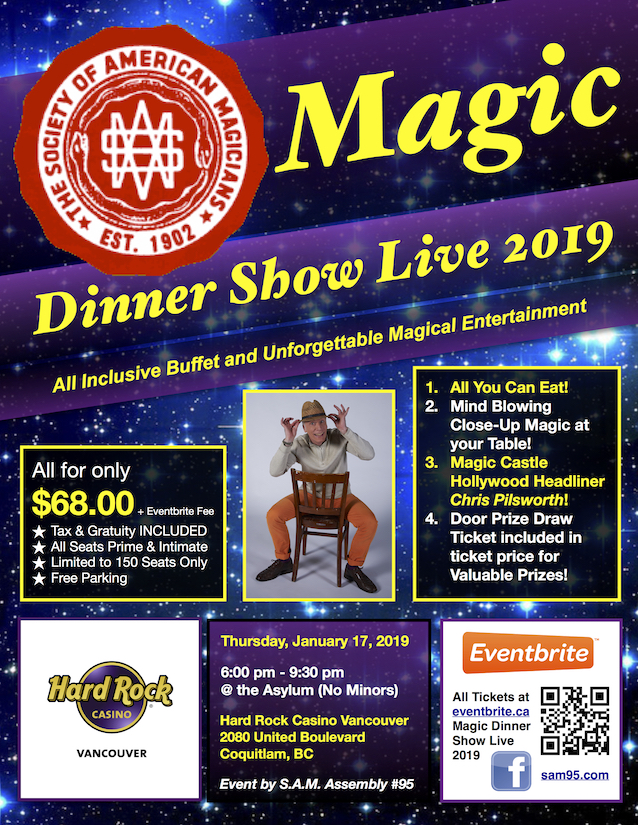 An All Inclusive Unforgettable evening of All You Can Eat with intimate Close-Up Magic at your Table, and an Incredible Unique Comedy Magic Show on Stage, plus a Door Prize draw ticket for valuable prizes included in your admission!
Featuring Award Winning Magic Castle Hollywood Headliner Chris Pilsworth! And Mind Blowing Pre-dinner Table to Table Magic by the Society of American Magicians #95 Professional Close-Up Magic Stars!
This year's event takes place at the hot Asylum Sound Stage in the heart of the Hard Rock Casino. Tax & Gratuity ALL included. Free parking on site. Provincial Casino laws prohibit Minors from being admitted.
Organizer of Magic Dinner Show Live 2019
The Society of American Magicians (S.A.M.) is the Oldest and Most Prestigious Magic Organization in the World.  David Copperfield, honoured by the S.A.M. as the "King of Magic", is one of the S.A.M.'s current Magic Ambassadors.
The Carl Hemeon Assembly #95, Canada's largest S.A.M. Assembly, is based in Vancouver, BC, Canada, and is comprised of a highly talented and skilled group of Professional and International Award Winning Magicians.  The Dean and Founder of Assembly #95 is 2009 FISM Grand Prix World Champion, and a Two Time (2011 & 2016) Penn & Teller Fool Us Champion, Shawn Farquhar.  In 2014, members Trevor & Lorena Watters became the North American FISM Stage Champions in St. Louis, Missouri.  Rod Chow is the current 2nd National Vice-President of the Society of American Magicians, the first international National Council Officer in the 117 year history of the organization.