McCormick Dementia Services Caregiver Education Series October-November 201...
Description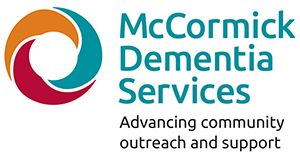 We recognize the multi-faceted role of providing care to someone with dementia. To help caregivers better understand their loved one's journey and how they can best provide support while at the same time address their own emotions and needs, we have designed the Caregiver Education Series. This popular community program provides specialized support to caregivers by offering sessions on communication, care techniques, behaviour management as well as provides opportunities for shared group support and links to available community resources.
The Caregiver Education Series is offered as a five-week series of evening group sessions that are delivered by a combination of dementia experts in research, education, communications and social work.
Preregistration is required for the full program – we regret that registration for individual sessions is not available.

Upcoming Sessions
February 7 to March 28, 2017
April 11 to May 30, 2017
August 15 to October 3, 2017
October 10 to November 7, 2017
Topics
Putting a Face on Dementia
What do the Medical Experts say?
Communication – Our Most Important Human Link
All Behaviors Have a Meaning – What are Their Causes and How Do We Deal With Them?
Caregiver Resources