A slow movement practice informed by choice, applying Trauma Center-Trauma Sensitive Yoga, Somatic Experiencing and land-based connection.
About this event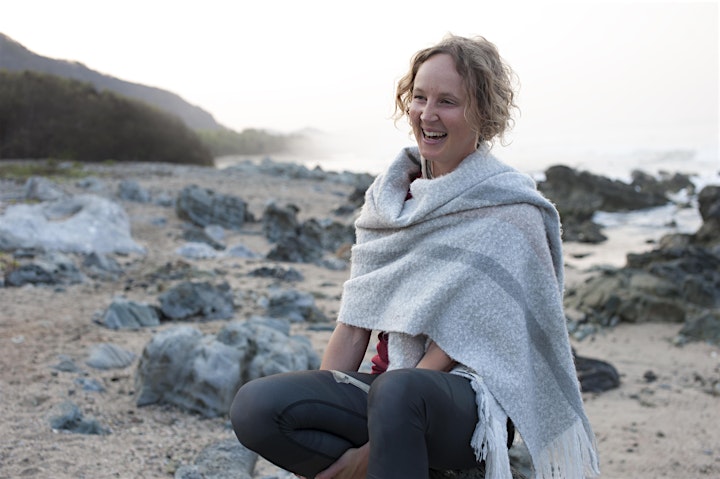 Feeling exhausted?
Sick of feeling overwhelmed?
Want your life back?
I remember when I was so exhausted, I could barely walk around the block.
...and I was definitely too exhausted to get through a yoga class!
My life was so much effort to manage every day.
I was used to trail running and dancing.
Thriving with a full schedule was the norm.
Then my life changed, I could no longer push.
Does this feel familiar?
I needed to meet my body where she was at.
What worked for me was being in charge of my body and my choices, and I did this through a gentle movement practice.
Class Description.
I'll guide you through 9-weeks where you get to be in charge of your body throughout the experience. You'll be invited to notice feelings in your muscles, with choices to move, stretch, and breathe based on your own body energy levels, sensations, and present moment experience.
A slow and gentle yoga class grounded in choice with a weekly rhythm of engage, integrate, rest.
This trauma-informed class series offers space to reconnect and develop a sense of safety in your body at a pace that is supportive for you.
*
"Nicola offers a kind and gentle space. There is complete freedom to show up as you are and enjoy whatever feels right in your body. My sense of being embodied has increased as a result of her teachings." Class Participant
***
"I will forever be grateful for finding this class. It has been an amazing addition to my trauma therapy. Nicola has created a safe and welcoming space that has helped me to be more present and connected to my body. I highly recommend this class and would absolutely register again." Class Participant
*
There is nothing being offered like this 9-week movement class series informed by Trauma Center-Trauma Sensitive Yoga, Somatic Experiencing, and land-based practices available anywhere else.
Possible Outcomes.
Research has demonstrated that Trauma Center-Trauma Sensitive Yoga (TCTSY) has reduced symptoms of Post Traumatic Stress Disorder (PTSD) in 9-weeks for many participants.
Each person's journey is unique.
All bodies and expressions are welcome.
Come see what's possible for you.
Visit www.traumasensitiveyoga.ca
*
"I highly recommend Nicola and this program. The classes were a welcomed addition to my healing and I noticed my PTSD symptoms decrease after only a few classes. I also feel more safe and in control of my body than I have in a long time. Thank you Nicola for being very open and supportive." Class Participant
***
"At the start and during the series I was still in fight mode, very stressed and worried and really living in sensations of the past. I wanted to share that because it really was a dramatic amount of healing I experienced." Class Participant
*
What is received in this 9-week class series?
- A weekly movement class with a collective of folx interested in connection with their body (please note there will be no class offered Monday November 22, 2021, however an optional zoom call with a guided experiential activity will support engagement that week)
- A weekly therapeutic theme introduced with some education before starting each class.
- A weekly PDF emailed to you at the end of each class reviewing the content of the theme introduced that week
- Weekly journal question prompts corresponding to the weekly theme
- An invitation to join a private Facebook group to view the pre-recorded videos, connect with the other participants, and access additional resources related to the themes provided on a weekly basis
- Weekly pre-recorded educational videos on the theme posted in the Facebook group to support integration of the material
- Weekly land-based inquiry exercises provided in correlation with the weekly theme to support fostering connection with the natural world and access some rest.
- 1 zoom session provided to offer a guided and experiential land-based inquiry on Thursday November 25, 2021.
- 1 pre-recorded Mindful Movement Class to access if you happen to miss a class
- Email and Facebook group access to Nicola throughout the 9-weeks if any questions arise!
When.
Engagement
Online Mindful Movement Class using Zoom Platform (classes will not be recorded to support privacy. There will be 1 pre-recorded class available to access if you happen to miss a class)
Every Monday starting October 4-November 29, 2021 (no class November 22)
730-830pm EST
530-630pm MST
430-530pm PST
Integration
- Weekly pre-recorded educational videos
- Educational PDF summaries
- Journal question prompts
- Land-based inquiry and connection
- Facebook group resources and posts
- Access your support outside of the class series
Collective Rest.
- Guided instructions for weekly experiences of land-based connection that are optional
This is an invitation into a quiet re/volution.
One of embodiment...
Of choice...
Of Agency.
Registration and Investment.
www.traumasensitiveyogawest.ca
$250 - Sustainer (Pays for yourself)
$225 - Community (Discounted)
$275 - Supporter (Pays for yourself and supports someone else)
**Event sales and registration close Monday October 4, 2021 at 11:59am MST.
***The value of the class series is $250, however there is a self-determined way to choose what you pay based on your access to financial and social resources. Everyone has the same access to resources and content!
The 3-tiered pricing is based on your self-determined access to resources, privilege, and social capital. Through self-assessment, please consider your positionality of privilege. You are encourage to consider this based on your intersecting identities (ie: race, gender, sexual identity, social-economic status, education, able-bodied-ness etc) that do or do not grant you access to social capital.
Please choose the self-determined amount to register with your payment.
Financial Opportunities.
* 5 scholarships are available for a reduce rate of 50% from the community tiered pricing for residents within Treaty 7 territory (funds generously raised by the Mindbody Awareness Fundraiser)
* 3 scholarships are available for a reduce rate of 50% from the community tiered pricing for folx outside of Treaty 7 territory.
* If providing a lump sum payment is not accessible for you at this time, payment plans are available. Please go to the website to apply and share your intended schedule for payment in 2 instalments, noting the full payment needs to be received by Friday October 1, 2021, prior to the class series start date.
Please fill out the scholarship and payment plan applications on the website, www.traumasensitiveyogawest.ca. If you have any additional questions, please contact Nicola at wellnesswithnicola@gmail.com
This is what people were saying about the last class series…
"My opinion of meditation/yoga has shifted. I was so resistant to trying it because I am a very fidgety person...'Fidgety skeptic' if you will. Around week 3/4 I TRULY started to give in to the resting pose and in week 4/5 I was able to lay there, in complete stillness and silence and hear nothing in my head. No chatter. No white noise, no tasks popping in. Just complete silence. Thinking about it actually brings a tear to my eye as I write this because never once in my life before this class, not even when I'm falling asleep, have I felt true stillness." Class Series Participant
Bring your curiosity.
Participate in discovery.
Peacebuilding from within.
Still have questions?
Visit www.traumasensitiveyogawest.ca and look within the Events Tab, click on the Mindful Movement Class Series and scroll down to the Frequently Asked Questions (FAQ's).