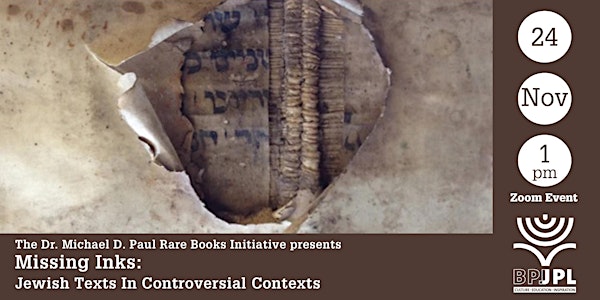 Missing Inks: Jewish Texts In Controversial Contexts
Rare Book Workshop: Missing Inks: Jewish Texts In Controversial Contexts
About this event
Rare Book Workshops: Themes and Variations in Jewish Printing and Book History.
The Jewish Public Library's rare book workshop facilitators will share the research and stories that will telescope 500 years of Jewish books into 3-one hour sessions.
Presented by: Nicole Beaudry, Eddie Stone, and Eddie Paul
The Dr. Michael D. Paul Rare Books Initiative presents
Missing Inks: Jewish Texts In Controversial Contexts
The print era accelerated both the spread of Jewish works and ideas within and outside of the Jewish community, and the interactions of Jews and Christians in and between art and commerce, not to mention between religious and secular thought. Among these intersections, a long-dead author helped spark a fire…a publisher made himself vanish … and a volume of sacred Biblical verses unfolded into a tale of theft and subterfuge..
As part of the ongoing Dr. Michael D.Paul Rare Books Initiative, the third in a series of themed rare books workshops will show how under the right (or wrong) circumstances, words can inflame controversy whether they're present – or absent.