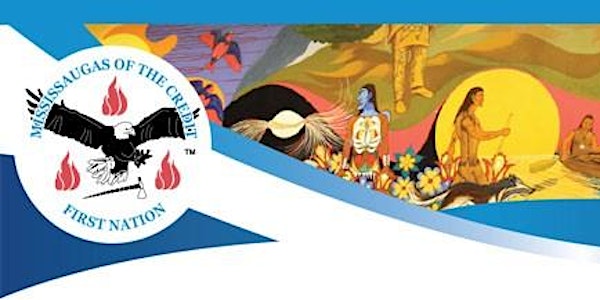 Mississaugas of the Credit First Nation Virtual Historical Gathering
Join the Mississaugas of the Credit First Nation to celebrate their history and ongoing projects in this ZOOM event. Everyone is welcome!
About this event
MCFN VIRTUAL HISTORICAL GATHERING :
AGENDA AT A GLANCE
10:00am Welcome by Master of Ceremonies, Jordan Jamieson
10:10-10:30am Opening, Elder Sault
Morning Session: Historical Documentation
10:30-1100am Doodem & Council Fire: Anishinaabe Governance through Alliance, Heidi Bohaker
1100-1130am Seen But Not Seen: Influential Canadians & First Nations,1840s to Today, Donald Smith
1130-1200pm Reflections on MCFN Historical Gatherings – Interview with David Moses, Margaret Sault
1200-1230pm Lunch Break – show Historical Gatherings Video Compilation
Afternoon Session: MCFN Community Action
1230-1pm Nbii (water) & its meaning to Michi-Saagiig people, Valarie King
1-130pm Wampum Belts, Alan Corbiere
130-145pm Break
145-215pm Moccasin Identifier Project, Carolyn King
215-245pm Traditional Medicines and Gardens, Jordan Jamieson
245-300pm Break
3-330pm Ethnobiology of Animoshag, MCFN, Jonathan Ferrier
330-4pm Board overview of the Michi Saagiig visions , Veronica King-Jamieson
4-430pm Closing Remarks, Elder Sault

For more information please contact:
Sherry Fukuzawa at s.fukuzawa@utoronto.ca
Margaret Sault at margaret.sault@mncfn.ca
MCFN website: www.mncfn.caFacebook page: https://www.facebook.com/mississaugasofthecreditfirstnation/Twitter: https://twitter.com/mcfirstnationInstagram: https://www.instagram.com/mcfirstnation/?hl=enYoutube: https://www.youtube.com/channel/UCLI_99l_p8-aAmCM4SEXkgQ/featured?view_as=subscriber
This event is sponsored by the Collaborative Digital Research Space (CDRS) at the University of Toronto Mississauga.