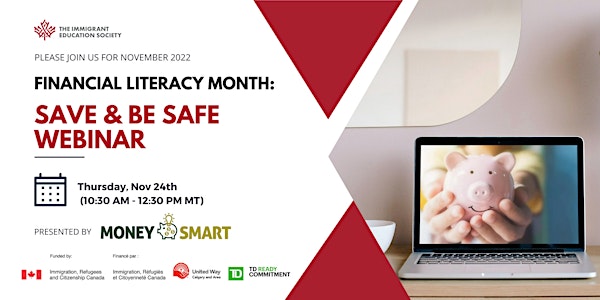 Money Smart: Save and Be Safe Webinar
We invite you to Financial Literacy Month: Save and Be Safe Webinar hosted November 24th, 2022, from 10:30 am-12:30 pm (Virtual Zoom).
About this event
In the highlight of Financial Literacy Month in November, TIES Money Smart Program invites you to join the upcoming sharing tips and current resources to educate families and youth as part of financial literacy activities.
How to be Money Smart? You want to learn tips about budgeting, saving, credit history, and how to avoid fraud and scams?
In the webinar we'll cover:
· Budgeting
· Registered funds (RESP, TSFA)
· Building your credit history
· Financial safety - fraud and scams
· Understanding your utility bills
We welcome you all to join Save and Be Safe Webinar conversation.