Description
Are you a self-employed person with disabilities who would like to know more about The Ministry of Social Development & Poverty Reduction (MSDPR)' The Self-Employment Program (SEP)? Do you have any questions about your disability benefit?


With support from MSDPR, Disability Alliance BC's Tax AID team offers an exciting workshop!
Freshment is provided free.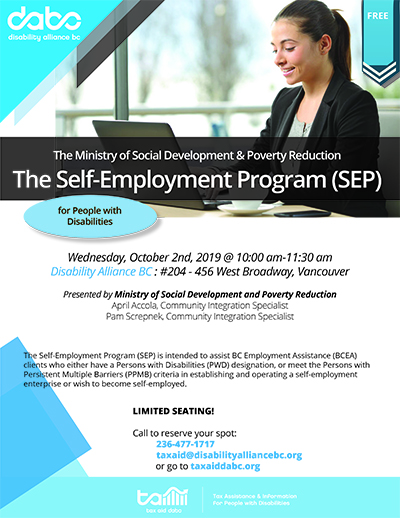 Presenters:
April Accola, Community Integration Specialist

Pam Screpnek, Community Integration Specialist
During the presentation, you will learn:
How does a client apply for SEP?

How is SEP different from other Self-Employment initiatives?

Does the ministry offer any business training?

How does business income relate to a client's eligibility for assistance?

Assets

Reporting requirements

How do business loans affect client eligibility for assistance?

Business Plan

Business Expenses
Seats are limited and reservation is mandatory.
Priority will be given to people with disabilities, but family members are also welcome to attend.