MTL NewTech | DemoNight Global Entrepreneurship Edition with Dawson eWeek
Description
MTL Newtech is delighted to be teaming up with Dawson Eweek who are hosting our next DemoNight as part of the Global Entrepreneurship Week. This event is going to be huge and best of all: tickets are offered complimentary to our wonderful partner. There's a limited amount so don't forget to claim your ticket!

Every year, during 1 week in November, Global Entrepreneurship Week takes the world by storm in an effort to inspire young minds while celebrating the innovators and creators who bring ideas and startups to life, further driving economic growth and social sustainability. Dawson College's Centre for Innovation and Entrepreneurship doesn't miss a beat to help build and support this initiative by bringing you EWeek! EWeek attracts over 2500 attendees, 50 guest speakers, mentors and coaches, and 23 events over the course of 4 days of intensive entrepreneurial bootcamps and workshops. All to say, MTL NewTech is excited to be once again in collaboration with Dawson College and their EWeek to celebrate and coach the movers and shakers of this world, but more importantly, of our community!
More info on GEW can be found here!
More info about EWeek can be found here!
// Meet Startups & Talent
The evening will both start and finish with a networking time to meet co-founders for new startups projects: programmers, mobile & web entrepreneurs as well as tech professionals are part of the attendees. If you're looking for engineers, journalists or investors to take your startup to the next level, this is your chance!
// 5 Inspiring Startups on stage
Startups will then pitch to the crowd. Presentations will be exactly 5 minutes each including the demo, followed by a Q&A. We aim to benefit, challenge and inspire the community by featuring these innovative startups.
// Les Pitonneux
If you haven't heard about Les Pitonneux, it's an awesome non-profit that teaches you how to code in a new original format: the learning circle. They've developed a 12-week program, and are graduating their first cohort with 5 amazing projects. Whether you're looking for looking for talent, cofounders, or just to be inspired, check out their innovative demos! Presentations will be exactly 3 minutes each including the demo, followed by a Q&A session at the end of the startups demos.
// Innovative Research
Since 2017, at each demonight we have been aiming to bring a researcher or a project that has a deep research component to it to inspire startups and aspiring entrepreneurs to strive for meaningful innovations. This time regarding the AI research of our friends of Dataperformers thanks to our partnership with Deep Learning Montreal!
// Meet your Community
We usually take few minutes for community announcements, it's all what we are about at the end of the day! While we have amazing communities helping entrepreneurs or exploring new technologies and innovations, many current or aspiring Montreal entrepreneurs are still unaware of all the awesome groups that exist. Especially this time being a kick off for the new seasons with usually a fairly high number of new beautiful faces in our community. So let's change that! If you know or are a community who wanna increase awareness of what you're up to, reach out to us and we will give you the time to shine! :) (limited to 10 though, and we will try to do it more recurrently)
//Schedule
5:45PM - 6:00PM | Doors open, networking time
6:00PM - 7:00PM | Guest Keynote Speaker courtsey of Dawson College
7:00PM - 8:00PM | 5 Startup Demos and Q&A panel; presented by MTLNewTech
8:00PM - 8:15PM | Meet your Community; Community Announcements
8:15PM - 9:00PM | Stay on for networking!
//Location
Dawson College
3040 Sherbrooke St W
Montreal, QC
H3Z 1A4
The event will be held in Conrod's Lounge, which you can reach off of 4001 Maisonneuve O. See the map below for more details!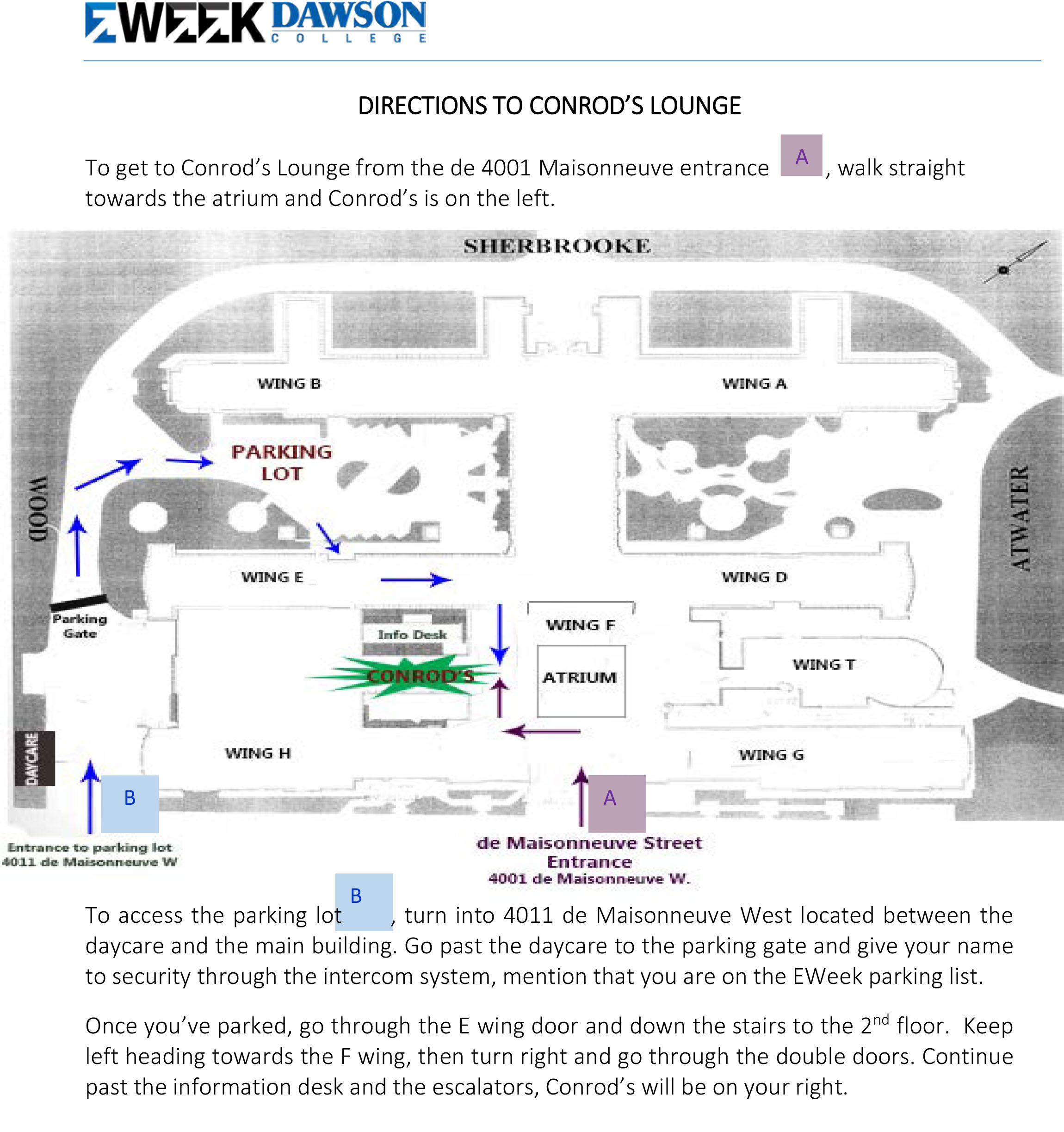 // Awesome Partners
We are really happy and proud to have EY Canada as our supporter for a fairly long time! Nassim, Cedric and Ramzi are really awesome, and can give you a hand whether it's around incorporation or your research and development tax credits among others! Go ping them at demonight!
A huge thanks to our friends of Lickstats who are kicking ass! If you actually wanna track the performance of your marketing and campaigns, don't miss it
// Community Collective
At MTL Newtech, we are always trying to build bridges with others communities. We would like to thank the members of our Community Collective that are helping make every event a success, and supporting all those who are helping build a thriving ecosystem of startup entrepreneurs in Montréal and beyond! We have some beautiful projects coming up together, stay in touch :)
- Queer Tech Montreal is our community organisation that promotes the visibility, engagement, advocacy and coalescence of Queer minorities (LGBTQ+) and their allies in the tech startup Montréal ecosystem and beyond.
- MTL + Ecommerce are our old old old friends from back in the days of "startup squat" ;) They have grown to do wonders for the whole ecommerce community in Montreal and beyond. If you are or know someone who's into or want to start an online business, don't miss it!!
- Pitonneux.com if your budget is tight and you wanna learn how to code at your pace in a peer to peer setting with awesome mentors.
- Free Code Camp Montreal if your budget is really super tight but you still wanna secure your future (and present! ;)
- MTL DATA if you wanna start breathing data science
- Osmos Academy if you wanna explore and learn about wearables, IoT tech, and data science use for good!
- HackerNest is our monthly nerding out with fellow geeks
/ / Community Partners
We would like to also thank our community partners that are supporting us and who are helping build our vibrant Montreal community every single day!
- MTLinTech
- Betakit Montreal
- Hacking Health
- Startup Drinks Montreal
- Maison Notman House
- District 3 Innovation Center
- NeurotechX
- WearHacks
- Montreal Girl Geeks
- Défi Technovation / Technovation Challenge Montréal
- Club Cedille ETS
- McGill Entrepreneurs Society
- YEP HEC
- RETS: Regroupement d'Entrepreneuriat Technique et Stratégique
- Upstarters Concordia
- Poly-E Club Entrepreneur Etudiant de Polytechnique
- Centre d'Entrepreneuriat Poly-UdeM
- Centre d'Entrepreneuriat Banque Nationale - HEC Montréal
/ / Don't miss out
Want to apply to demo? Head here: mtlnewtech.com/apply-to-demo

Want to stay updated on what's going on in Montreal startups? Join our mailing list: http://go.mtlnewtech.com/mailchimp - previous examples:http://eepurl.com/bRzR2j

Want to know all the events happening in Montreal? Add this calendar in your phone: http://go.mtlnewtech.com/events

Want to join the conversation? Join us
us at Montreal & Startups
or linkedin: https://www.linkedin.com/groups/164811

And of course, stay in touch on Facebook and Twitter :)