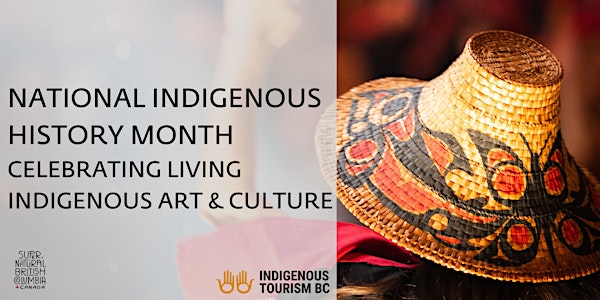 National Indigenous History Month: Celebrating Indigenous Arts & Culture
Join this National Indigenous History Month workshop to immerse yourself in authentic Indigenous arts & culture in British Columbia.
About this event
Join Indigenous Tourism BC for an inspiring arts & culture workshop in celebration of National Indigenous History Month.
In partnership with Destination BC and sponsored by Daily Hive, you will learn from Indigenous cultural ambassadors as they share their language, art and connection to the land in order to preserve the wealth of culture, from an Indigenous perspective.
Travel virtually to the U'mista Cultural Centre in Alert Bay, BC with Sara Fulla, where you'll learn about the history and cultural significance of Potlatches as well as artistic practices, including cedar weaving, song and dance.
Viewers will then be transported to the remote Great Bear Rainforest in Klemtu, BC where they will meet Sierra Hall at Spirit Bear Lodge. From harvesting traditional foods and wildlife watching to viewing petroglyphs and historical tours, Spirit Bear Lodge fosters deep connections to place and land. Learn about the many ways you can help protect and contribute to the revitalization of Indigenous culture that keeps over 204 Indigenous communities and more than 30 Indigenous languages alive in British Columbia's diverse and beautiful regions.
Click here to join (passcode: 004822)
Make sure you follow @indigenoustourismbc and @hellobc to stay up to date.
We hope to see you there!
For your next trip to Alert Bay, be sure to visit the U'mista Cultural Centre and Gift Shop. Plan your cultural tour & experiences online by visiting https://www.umista.ca.
Book now and travel later to the breathtaking Spirit Bear Lodge. All-inclusive packages are bookable online and include authentic Indigenous experiences, such as cultural tours, kayaking trips, bear and whale watching. For more information and to reserve, visit https://www.spiritbear.com/experiences/fill-and-thrill.html.
By signing up for the event, you confirm you are opting-in to receive the Indigenous Tourism BC newsletter.