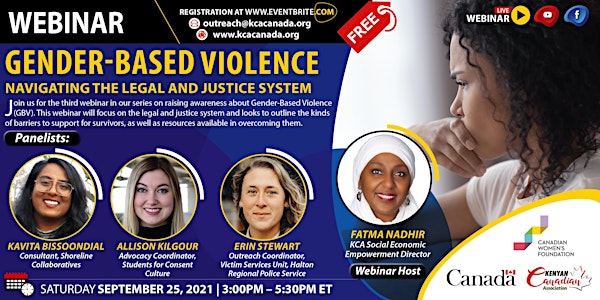 Navigating the Legal and Justice System
Expert panelists address the various stages of the legal and justice system, the potential difficulties, direct viewers to helpful services
About this event
Join us for the third webinar in KCA's series focused on spreading awareness and resources to end Gender-Based Violence.
Navigating the Legal and Justice System
September 25th, Saturday at 3:00pm to 5:30pm ET
This free and inclusive event will feature expert panelists who can address the various stages of the legal and justice system, the potential difficulties, and most importantly, direct viewers to services that can help lighten the burden that comes with navigating bureaucracy after trauma.
This webinar series is supported by funding from the Government of Canada through the Canadian Women's Foundation, Safer + Stronger COVID-19 Emergency grant.
If you have any questions or concerns regarding gender-based violence, please contact outreach@kcacanada.org
If you have any questions or concerns regarding the webinar series, contact ict@kcacanada.org
Look out for the remaining webinars in this series coming soon:
- Webinar 4: Gender-Based Violence and the Media - October 16th, 2021
- Webinar 5: Gender Equality & UN Women HeForShe - November 6th, 2021
Kenyan Canadian Association is a federal not-for-profit organization that seeks to address the issues affecting Black, other racialized communities and marginalized groups in Canada while assisting newcomers to settle and make a positive contribution in the society as they endeavour to achieve their goals. Learn more at www.kcacanada.org
If you'd like to see past webinars or catch up before you attend this one, access the recorded video on the Kenyan Canadian Associations YouTube channel!
http://youtube.com/watch?v=OqgxBaBpBP0