Sales Have Ended
Ticket sales have ended
The registration has closed. You can contact True North Insight for more details: retreats@truenorthinsight.org See you again soon! À bientôt!
Event Information
Refund policy
Refunds up to 1 day before event
Eventbrite's fee is nonrefundable.
Sales Have Ended
Ticket sales have ended
The registration has closed. You can contact True North Insight for more details: retreats@truenorthinsight.org See you again soon! À bientôt!
New Year's retreat with Molly Swan & Norman Feldman
About this event
Online Retreat: New Year's retreat with Molly Swan and Norman Feldman
This retreat offers a time to join together in community and silence, entering the New Year as we cultivate reflection and intention. We will be supported by the meditation practice, Dharma talks, and an old year/new year transition ritual. We are happy to invite those who are new to Vipassana practice (Insight Meditation) as well as those who are familiar with this 2600-year-old tradition. To fully benefit from the retreat, we invite you to commit to the retreat from the beginning to end. We understand that you may not be able to attend all the sessions. In addition to the formal meditation practice, we'd like to offer some restorative time each day on this retreat – to rest, to take a walk, to continue with the formal practice, to simply be outdoors and listen to hearing, or to prepare a nourishing meal – to be mindfully engaged in silence with something that will be restorative. This year has held many challenges. As we approach 2021 with all its uncertainty and continuing challenges, may we find refuge in being safely together, not physically but visibly on-screen. May we dedicate these three days to joining our hearts and minds in harmony and in kindness, for the benefit of ourselves, and all those with whom we share our planet.
Black and Indigenous people can attend free of charge.
This retreat is taught in English.
We completely understand that you may not be able to attend all the sessions, and mostly want you to take care of yourselves, and so we support you in whatever you can attend.
We are hoping to record the talks and make them available after the retreat, but we can't guarantee it. Thanks for your understanding.
Retraite en ligne : Nouvel An avec Molly Swan et Norman Feldman
Cette retraite offre un temps pour se réunir dans la communauté et en silence, entrant dans la nouvelle année alors que nous cultivons la réflexion et l'intention. Nous serons soutenus par la pratique de la méditation, par les discussions sur le Dharma et par un rituel de transition année / nouvel an. Nous sommes heureux d'inviter ceux qui sont nouveaux à la pratique de Vipassana (Insight Meditation) ainsi que ceux qui connaissent cette tradition vieille de 2600 ans. Pour profiter pleinement de la retraite, nous vous invitons à vous engager dans la retraite du début à la fin. Nous comprenons que vous ne pourrez peut-être pas assister à toutes les sessions. En plus de la pratique formelle de méditation, nous aimerions offrir un peu de temps réparateur chaque jour lors de cette retraite - se reposer, se promener, continuer la pratique formelle, être simplement à l'extérieur et écouter, entendre, ou se préparer un repas nourrissant - pour être consciemment engagé dans le silence avec quelque chose qui sera réparateur. Cette année a été marquée par de nombreux défis. Alors que nous approchons de 2021 avec toutes ses incertitudes et ses défis persistants, puissions-nous trouver un refuge en étant ensemble en toute sécurité, non pas physiquement mais visiblement à l'écran. Puissions-nous consacrer ces trois jours à unir nos cœurs et nos esprits dans l'harmonie et la gentillesse, pour le bien de nous-mêmes et de tous ceux avec qui nous partageons notre planète.
Cette retraite est enseignée en anglais.
Nous espérons avoir les liens zooms vidéos et audios disponibles suite à la retraite et ne pouvons le garantir entièrement. Merci de votre compréhension.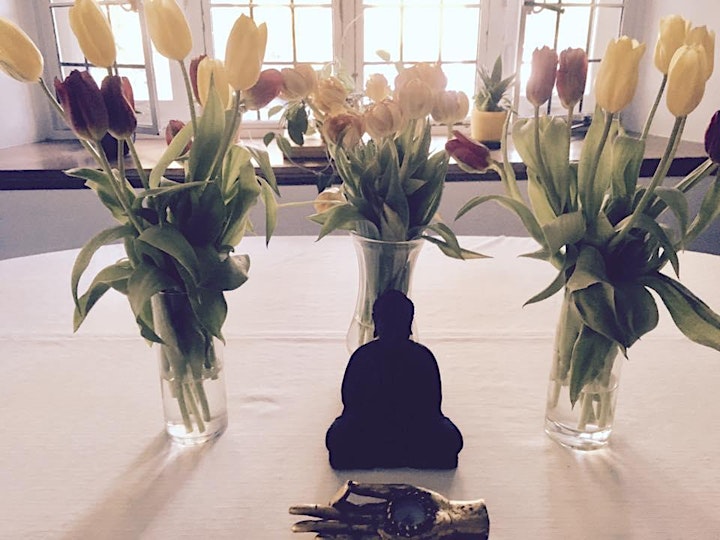 Practical Information
Wednesday, December 30 from 2 pm to 8 pm - Eastern Daylight Time - Canada
Thursday, December 31 from 7 am to 9 pm - Eastern Daylight Time - Canada
Friday, January 1 from 7 am to 12:30 pm - Eastern Daylight Time - Canada
Schedule: The daily schedule is below. Also, it is completely ok if you can't attend all of the retreat.
Where: On Zoom - the link will be sent 24 hours before the retreat begins.
How to prepare: Find a calm and comfortable place in your home. You will need a chair or a meditation cushion or bench. Scroll down to find more information!
Cost: Fees are on a sliding scale basis that allows participants to pay according to individual means. TNI is dedicated to offering affordable rates to all. Scholarships are also available. Please contact info@truenorthinsight.org. Everyone is welcome. Thank you for supporting TNI's longevity!
Teacher Dana: Our teachers are being hit hard by the cancellations of residential retreats across Canada and the US. Please note that the cost of the retreat covers only the administrative side of the retreat, not any payment to the teachers. Please consider giving a gift of Dana to the teachers. Following the 2,600-year-old Buddhist tradition, the teachings are considered priceless and are offered freely. At the end of the retreat you will be invited to offer dana, or donations, to the teachers.
Cancellation fees: Please let us know as soon as possible if you have to cancel. Refunds are available if you cancel more than 24 hours before the retreat begins.
We request that you arrive before the retreat begins. The Zoom space will open 15 minutes before the retreat starts.
Information: retreats@truenorthinsight.org
How to Prepare for Your Retreat
Meditation retreats are an invitation to create a space where you can take care of yourself and take time off from your daily life. With the goal of deepening inner calm, silence is an essential tool for this noble exploration of ourselves and allows us to listen deeply in this space of discovery.
For an online retreat at home, it's important to prepare a supportive environment in advance:
Find a clean, quiet place where you can be alone, in silence, without being disturbed.
Limit the use of electronic devices to just what you will need for the retreat (phone, laptop, or tablet). If possible, close all apps except for Zoom, deactivate different notifications, and put your device on airplane mode.
We are aware that the current situation may require that you give attention to those you share your home with, and that you may need to be available for them. Do the best you can to offer yourself a supportive environment for your retreat. Your intention and your commitment are your best supports.
Meditation Supports
A chair, cushion or meditation bench for sitting meditation.
A blanket or shawl in case you get cold.
Water to stay hydrated during the day.
Daily Schedule
Norman and Molly's presence on Zoom is indicated by N/M
Wednesday , December 30, 2020
2 – 5 pm Opening Session - Manager's Talk - Introduction to the Retreat
7 – 8 pm Dharma Talk N/M
Thursday, December 31, 2020
7 – 7:30 am Sitting Meditation (not on Zoom)
9 –10:30 am Instruction, Sitting, Q's, Walking instruction N/M
10:30 -11:15 am Walking Meditation
11:15 – 11:45 pm Optional Small Group Meeting (limited numbers) M
11:15 - 12 pm Sitting Meditation
2 – 3 pm Sitting/Guided N/M
3 – 5 pm Mindful resting, sitting, dancing, choice of restorative 'being'
7 – 9 pm Dharma Talk & Old Year/New Year Ritual N/M
Friday, January 1, 2021
7 – 7:30 am Sitting Meditation (not on Zoom)
9 - 10:30 am Sitting, Q's about practice N/M
10:30 - 11:15 am Walking Meditation
11:15 - 12:30 pm Closing N/M
The teachers
Molly Swan has been engaging in spiritual inquiry and meditation practice since the 1980's in North America, India, and England, primarily with teachers in the Theravada Buddhist tradition. Since 1997 she has been teaching Insight Meditation retreats as well as mentoring individuals and groups. A part of Molly's practice has been supporting others in accessing the precious gift of the Buddhist teachings. She is a co-founder and past Guiding Teacher for True North Insight Meditation Centre, and organized and managed retreats for many years in India, England, and Canada.
Molly's path has been primarily the teachings and practice of the Buddha because they speak with such clarity and possibility of liberation from suffering and struggle that is possible right here, right now - allowing the heart, and life, to truly flower. Other sources of inspiration for Molly have been months of pilgrimage in India, and living 'on the road' where the experience of stepping into the unknown as a daily experience is a powerful teacher. Although Molly has been teaching and supporting the Dhamma whole-heartedly for years, she is enjoying a much-reduced teaching schedule now, allowing time in semi-retirement for supporting others in the meditation teacher role, for pursuing other interests, and for simply 'being.'
Norman Feldman attended his first Insight Meditation retreat in 1971, while traveling in India. Since then he has practiced and studied with many teachers in the Theravada, Tibetan and Zen traditions of Buddhism, as well as with teachers in the Advaita-Vedanta tradition of Hinduism. He has spent long periods of time without a home, practicing intensively in India, Thailand and Sri Lanka, and in the West. He has also lived in Buddhist communities in England and Canada. Norman began teaching Insight Meditation retreats in 1986, and since then he has taught retreats throughout Canada and the US, as well as in England, in Bodhgaya, India and in Israel. Since 1998 Norman has been engaged full-time in offering Dharma support to others. He has also taught Mindfulness Based Stress Reduction (MBSR) programmes. Norman is a co-founder and has been a Guiding Teacher for TNI.
As well as leading formal retreats, Norman has offered forms of practice that facilitate the integration of meditation into daily life. These have included canoe retreats, study classes in the Buddhist texts, non-residential retreats that emphasize the integration of meditative awareness, insight and inquiry into daily life, and pilgrimage to the sacred Buddhist sites of India and Nepal. Currently, Norman lives in Guelph, Canada. He is reducing his teaching schedule and giving more attention to mentoring and supporting the next generation of dhamma teachers. In previous lives he has been a pharmacist and a shiatsu therapist.
Date and time
Location
Refund policy
Refunds up to 1 day before event
Eventbrite's fee is nonrefundable.