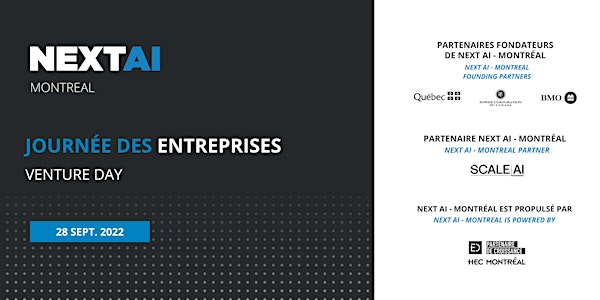 Next AI - Montréal 2022: Journée des entreprises | Venture Day
Celebrate with us the Next AI - Montreal 2022 cohort through presentations, panels and awards!
When and where
Location
HEC Montréal 3000 Chemin de la Côte-Sainte-Catherine Montréal, QC H3T 2A7 Canada
About this event
L'équipe Next AI - Montréal, de l'École des Dirigeants d'HEC Montréal, vous invite à rencontrer les entreprises formant sa cohorte 2022. Lors de cet événement dynamique, la cinquantaine d'entrepreneur-e-s partageront leurs idées, leurs modèles d'affaires et vous présenteront leurs prototypes.  Pour la première fois, nous ajoutons des présentations d'expert-e-s lors d'un après-midi à ne pas manquer!
Joignez-vous à nous pour ce "happening" de la communauté entrepreneuriale IA et découvrez les produits qui propulseront l'économie de demain.
The team behind Next AI - Montreal, from HEC Montreal's Executive Education unit, invites you to meet the ventures composing its 2022 cohort.  In this dynamic event, the 50 entrepreneurs will share their ideas, business models and display their prototypes. For the first time, we are adding expert presentations in an afternoon not to be missed!
Join us for this "happening" of the AI entrepreneurial community and discover the products that will power the economy of tomorrow.
Horaire | Schedule:
13h00-15h30: Kiosques et ateliers | Kiosks and workshops
15h30-16h00: Café réseautage | Coffee and networking
16h00-17h30: Présentation principale | Main presentation
17h30-19h00: Kiosques et cocktail réseautage | Kiosks and networking cocktail
La cohorte 2022 | The 2022 cohort:
Acrylic Robotics - Aeroport AI - Alpha Premium - Azimut Medical - Collogh Cares - Digitho Technologies - Displaid - DitchLabs - Empego Technologies - Envision AI - Epipresto - FLUIDEFI - GlüxKind - Happly - Matrius Technologies - mia - OLICAI - Ora Medical - Paperminds - Quote-n-Go - Ruse - Scient Analytics - Seedwell - Soralink - Sports AI - Truxweb
Nos partenaires | Our partners:
La Journée des entreprises de Next AI - Montréal 2022, est offerte grâce au soutien de nos partenaires fondateurs: le Ministère de l'Économie et de l'Innovation du Québec, BMO - Banque de Montréal, Power Corporation du Canada et de notre partenaire Scale AI. Nous sommes également reconnaissants à NEXT Canada et à nos nombreux et précieux partenaires nationaux. 
The Next AI - Montreal 2022 Venture Day is presented with the support of our founding partners: the Quebec Ministry of Economy and Innovation,  BMO - Bank of Montreal, Power Corporation of Canada and of our partner Scale AI. We are also grateful to NEXT Canada and our many valued national partners.